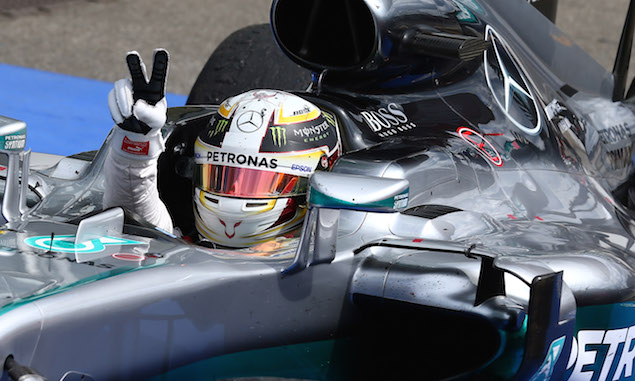 Lewis Hamilton believes his maturity and ability to balance his personal lifestyle with racing is helping him perform to his best.
The triple world champion leads an active lifestyle away from F1, documenting his exploits openly on social media. This summer he has spent time in America, Mexico and the Caribbean among other places, while he holds a 19-point lead in the drivers' championship.
Having been on a run of six wins in seven races, Hamilton feels he has been able to find the best balance in life since turning 30 at the start of last year.
"It's just as important as the whole year to be honest," Hamilton said when asked about the importance of the summer break. "I like keeping busy, there's been breaks where I've just been exhausted after the break because I've just done a lot and done the training and just done too much. But it generally goes relatively quick.
"The last one was just amazing because I was around good people, I got the training in but it wasn't my priority and it was just enjoying wherever I was. I was buzzing when I came back. Each year you try to do different things, you want to see the world and do different things without losing focus on the ultimate goal, which is winning the championship.
"I think last year again, being 30, I was in the first year of the best year of my life really. They say that don't they? And my thirties so far have been my best, really enjoyed them and I think that's just part of me being mature and knowing what I want.
"I'm generally around people who are younger than me most of the time, I'm generally the older one there. I'm actually now finally in the place where I'm able to look at someone who is 25 or younger and actually give wisdom, which I was never in a position [to do] before.
"[I can say] 'I'm six years ahead of you and these are the things I've experienced in those six years, you've got loads more to learn so don't worry about it'. Those kinds of things. It's kind of crazy, I'm over that hill now and kind of hoping it's not too steep a hill downhill. I think I'm right at the top."
Meet the British drivers chasing GP2 glory and an F1 seat
From Sauber to Ferrari - Exclusive interview with Kimi Raikkonen on F1's evolution
Silbermann says ... No hope for an Olympic Grand Prix
FEATURE: Romain Grosjean answers your questions
Keep up to date with all the F1 news via Facebook and Twitter