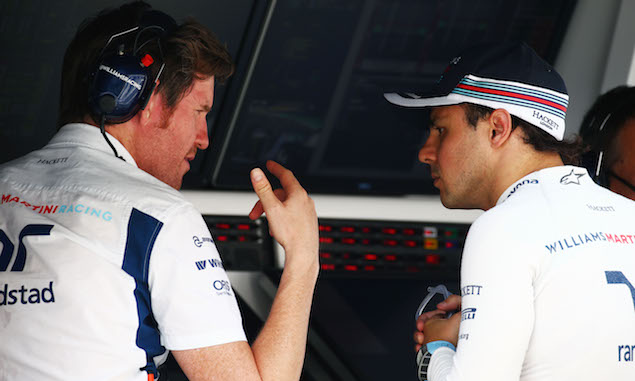 Felipe Massa's running during Friday practice for the Italian Grand Prix was hampered by brake problems on his Williams.
Massa spent a long spell in the garage during FP2 as Williams investigated a brake issue, only managing to emerge in the final ten minutes for a short run. Massa says the delay cost him the chance to gauge his car's performance on Friday, completing just 20 laps, less than half of the amount managed by team-mate Valtteri Bottas.
"Actually I couldn't do a long run because we had a little issue today, one in the morning and one in the afternoon," Massa said. "I had some issues with the brake sensors and for safety we didn't run. Then we decided to change the sensors and it was fine after but then I just did three laps at the end. So for me it's a little bit difficult [to judge performance]."
Having announced his intention to retire from F1 at the end of the season on Thursday, Massa says he feels calm having made his decision public.
"Well I mean first of all the difficult day was yesterday so now I'm just relaxed and thinking of doing as much as I can in these last eight races to actually put us back in front of Force India until the end of the year. That's the target and we will try everything we can, we know it's not easy.
"I was quite relaxed actually, I am quite relaxed. I am just thinking about doing the best I can in these last eight races and enjoy this moment, giving everything I can to do an amazing last eight races of the season. I'm happy and relaxed and really happy with my decision as well."
Silbermann says ... Mad about Max, Monza and Massa
Claire Williams on Felipe Massa and 2017 driver plans
Romain Grosjean column: Speed, sponsors and scheduling
2016 Italian Grand Prix preview
Keep up to date with all the F1 news via Facebook and Twitter