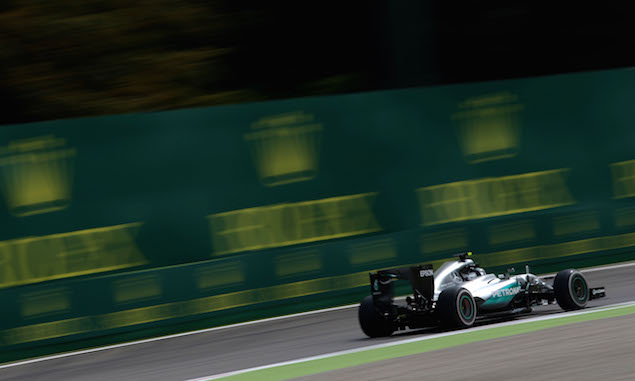 Nico Rosberg was pleased to enjoy a better start to his Italian Grand Prix weekend than in Belgium one week ago, as Mercedes dominated both Friday sessions at Monza.
Despite cruising to victory at Spa last Sunday, Rosberg and his team had struggled with tyre wear in practice and qualifying. In Italy, the German set the pace ahead of team-mate Lewis Hamilton in FP1, lapping more than one second faster than third-placed Kimi Raikkonen.
"It's different from Spa, because we started straight away from the right place, so it felt good out there," Rosberg said.
"It's been a good battle with Lewis, one time he was quicker, one time I was quicker, and behind us Ferrari seems to be the closest team to us.
"We don't know how close they really are because it's Friday but we are optimistic. But they were fast, so let's wait and see."
The Scuderia, which introduced a power unit upgrade for its home event, did close the gap in the afternoon but Mercedes still had half a second in hand. And Rosberg, who was second to Hamilton, reveals that the reigning Constructors' champions did not really push their own engines.
"Ferrari seemed to have made progress with their engine but we had our engines turned down today, so we cannot compare directly.
"Let's wait for qualifying to see where we all are. I'm optimistic, confident I'll be ahead but they're not too far off."
REPORT: Hamilton fastest as Ferrari closes gap in FP2
Silbermann says ... Mad about Max, Monza and Massa
Claire Williams on Felipe Massa and 2017 driver plans
Romain Grosjean column: Speed, sponsors and scheduling
Keep up to date with all the F1 news via Facebook and Twitter