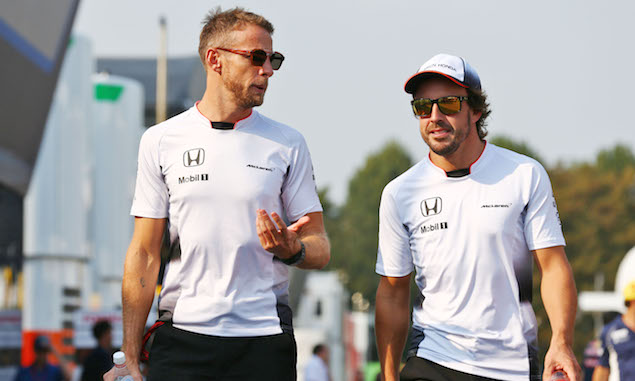 Fernando Alonso says Jenson Button "is probably the best I have worked with" as a team-mate, with the British driver's future unclear.
Button is out of contract at the end of the season and McLaren is expected to promote Stoffel Vandoorne alongside Alonso in 2017, with the Belgian currently racing in Japan's Super Formula. The 2009 world champion has been linked with a move to Williams, but Alonso is full of praise for his current team-mate.
Asked if Button is pushing him as hard as any team-mate, Alonso replied: "Yes…
"He is a very experienced driver and he is helping the team a lot with feedback and developing the car. As a driver he is very complete and is probably the best I have worked with."
Button's links to Williams were strengthened by Felipe Massa's retirement announcement on Thursday, with Alonso admitting he was surprised to see his former Ferrari team-mate leaving F1.
"A little bit… I didn't know for sure what he was doing next year but even if he was retiring I was expecting the announcement later in the season. His decision, he is a great man, I was team-mate with him for four years and I know him very well, so I wish him the best for the future and for his family."
Mercedes boss Toto Wolff recently stated he would find Vandoorne a seat in F1 if McLaren is "crazy" enough to not give the Belgian a drive in 2017.
REPORT: Hamilton fastest as Ferrari closes gap in FP2
Silbermann says ... Mad about Max, Monza and Massa
Claire Williams on Felipe Massa and 2017 driver plans
Romain Grosjean column: Speed, sponsors and scheduling
Keep up to date with all the F1 news via Facebook and Twitter