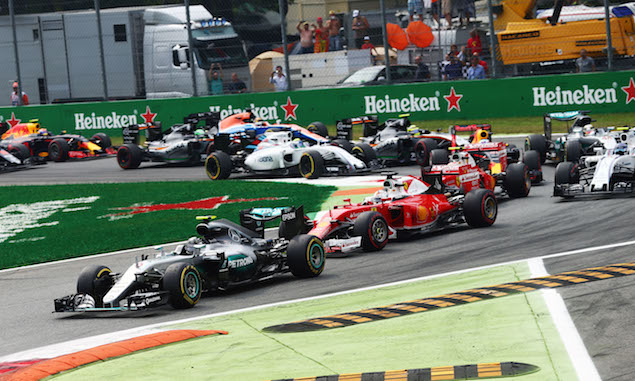 Nico Rosberg says his 'awesome start" in Sunday's Italian Grand Prix paved the way for him to beat Mercedes team-mate Lewis Hamilton at Monza.
Lining up second on the grid at Temple of Speed, Rosberg enjoyed a much a better launch than his team-mate on pole position to lead into the first corner. Hamilton dropped all the way down to sixth and by the time he recovered to second place, his title rival was over 10 seconds up the road.
"It is absolutely amazing, it is a very special day for me and I am very happy to finally have win here in Italy," a beaming Rosberg said.
"It is unbelievable and it makes it phenomenal to be up here. It was all down to the start I had an awesome start and that made the win. It was all there."
It was not all plain sailing for Rosberg at lights out though, with the 31-year-old having to go defensive on the charging Ferrari duo, who were on a softer Pirelli compound.
"We talked about the start as a great opportunity and it worked out fantastically. We had the soft tyre one and the Ferraris [on the second row] had the supersofts so they had a bit more grip but that worked out great.
"That gave me the race win in the end because from then on I was able to control the pace and we had good speed."
Rosberg's seventh win of the season allows him to close the gap to Hamilton to just two points.
REPORT: Rosberg wins at Monza to cut Hamilton gap to two points
COMMENT: McLaren's 2017 driver line-up: A stroke of genius?
Silbermann says ... Mad about Max, Monza and Massa
Claire Williams on Felipe Massa and 2017 driver plans
Keep up to date with all the F1 news via Facebook and Twitter