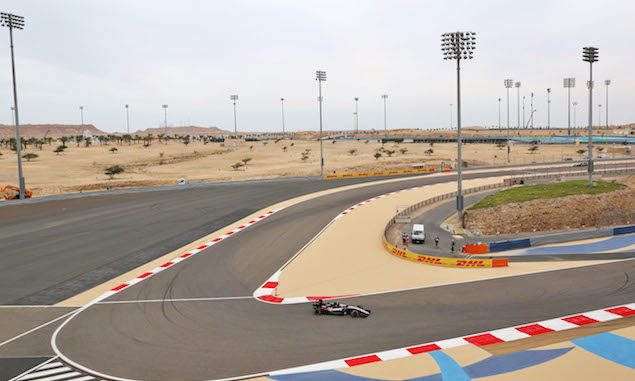 Force India deputy team principal Bob Fernley says he does not understand the reasons behind the pre-season testing row, adding a Bahrain test would be "a £400,000 minimum extra cost".
Pirelli wants to test in Bahrain in order to have warm, stable conditions throughout pre-season in which to evaluate its tyre compounds, with the tyres vastly different from previous years due to new regulations. While Mercedes has been vocal in support of the idea, many teams have offered resistance and Fernley says there has yet to be a compelling argument to go to the Middle East over Barcelona.
"Certainly for us it's a £400,000 minimum extra cost," Fernley told F1i. "Plus all the extra inconvenience. When you go to somewhere like Barcelona you've got the ability to bring in additional parts through that testing program. Once you're in Bahrain there's a big difference in cost and time to do all of that. The whole purpose of that test is chassis and engine-related tests, it's nothing to do with tyres, so I can't see why tyres have all of a sudden appeared in it.
"Testing from our point of view is very clear. The test before the first race is for chassis and engine evaluation for new cars. At no point in my understanding have we ever been worrying about tyres in those, so I don't know why the tyres are coming into it. There cannot possibly be a safety issue three weeks before the first race, so why are we doing it? Why are we confusing ourselves?
"At the end of the day it is chassis and engine testing. In order to do that we voted that Barcelona would be the best place to do it. What's changed to make that any different? It's only the Pirelli bit that's changed it. In essence you're putting the tyres under far more pressure in Barcelona than you ever will be in Bahrain, so I can't see the point of it."
And Fernley still doesn't believe teams would automatically accept the venue change even if Pirelli offers to foot the extra cost itself.
"I suppose if Pirelli put the money up everybody would think about it, for sure, but the question is why do we need to do it? Nobody has answered the question of why are we going to Bahrain for tyres?"
When it was put to Fernley that Pirelli wants to ensure it has selected the right compounds for the opening four races as a result of not getting the required aerodynamic loads from the mule cars being used this year, he replied: "The bottom line is they're not going to change that anyway.
"They say it's nine weeks before you can implement any new compounds. The first four races will be over.
"If they're not finding the loads [using the mule cars], why are we going to Bahrain when the loads are going to go through Barcelona? There's nothing making sense in any of this."
TECHNICAL - Turbulent Jet Ignition: In the antechamber of F1 power
FEATURE: Where and why has Williams been caught out
F1i Classic - Masten Gregory - The 'Kansas City flash'
Silbermann investigates the potential EU threat to F1's Liberty Media deal
2017 F1 driver line-ups so far
Keep up to date with all the F1 news via Facebook and Twitter