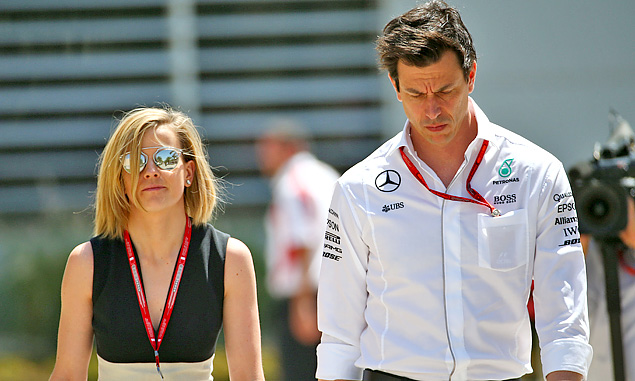 Mercedes boss Toto Wolff and his wife, former Williams F1 test driver Susie Wolff, have confirmed that they are expecting their first child together.
"Yes, it's true, it's a childhood wish," Toto told the Bild newspaper this week. "We are expecting our first child.
"Susie, my wife, is pregnant. Our child will be born in the month of April."
The news could mean that Toto might need to miss some or all of the long haul Formula One Grand Prix events currently scheduled for April, which include China, Bahrain and Russia, if he decides to be present for the birth.
Toto already has a 15-year-old son and a 12-year-old daughter from a previous marriage, while this will be Susie's first child.
The news was also confirmed by Susie on her Twitter feed, where she posted: "Some happy news, a little Wolff is on the way..."
Since retiring from competitive motorsport, Susie Wolff has been a television pundit for UK's Channel 4 Formula One coverage, but she has been absent from recent events and will not be in Austin, Texas for this weekend's United States Grand Prix.
The couple met in 2008 while working in the DTM championship, and they subsequently married in 2011 in a ceremony on the island of Capri.
Presently they divide their time between Ermatingen in Switzerland and Oxford in the south of England.
TECHNICAL - Turbulent Jet Ignition: In the antechamber of F1 power
FEATURE: Where and why has Williams been caught out
F1i Classic - Masten Gregory - The 'Kansas City flash'
Silbermann investigates the potential EU threat to F1's Liberty Media deal
2017 F1 driver line-ups so far
Keep up to date with all the F1 news via Facebook and Twitter