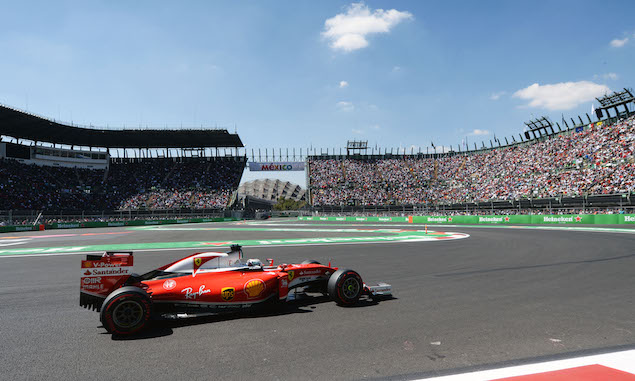 Sebastian Vettel says Ferrari has been struggling on Pirelli's supersoft compound after the German qualified only seventh for the Mexican Grand Prix.
Vettel's low-key Q3 effort came after the four-time world champion showed promising pace on the soft compound in Q2, finishing a close third behind Red Bull's Max Verstappen on the supersoft and Mercedes' Lewis Hamilton on the same rubber.
"The temperatures were up so it should have been better," Vettel said of his grid position. "But obviously we struggled on the supersoft compared to the soft compound already this morning [in FP3] and also this afternoon.
"Obviously we felt very good on the soft tyre and we didn't get the benefit on the supersoft. We saw some of that this morning and we tried a couple of things and we couldn't really improve. Obviously [the supersoft] was the faster tyre for qualifying, but not for us."
"I think the fact that we go faster on the soft that super-soft means we found more grip. I found more grip with the softs than with the supersofts, which is pretty unnatural and something we need to look in to.
Vettel, who will line up behind team-mate Kimi Raikkonen on the grid, is at least able to find solace in the fact that he will start the race on the soft compound, having set his quickest Q2 mark on the yellow-marked tyre.
"It could be interesting. Sunday is completely different – one lap is very different to doing many laps in the race and I think we tried it and it worked for both of us. That's positive and it should help us in terms of race pace and finding the right strategy, I hope."
REPORT: Hamilton secures pole as Rosberg recovers to P2
15 minutes with ... Nico Rosberg
Silbermann says ... Masked in Mexico
Chris Medland's 2016 Mexican Grand Prix preview
Keep up to date with all the F1 news via Facebook and Twitter