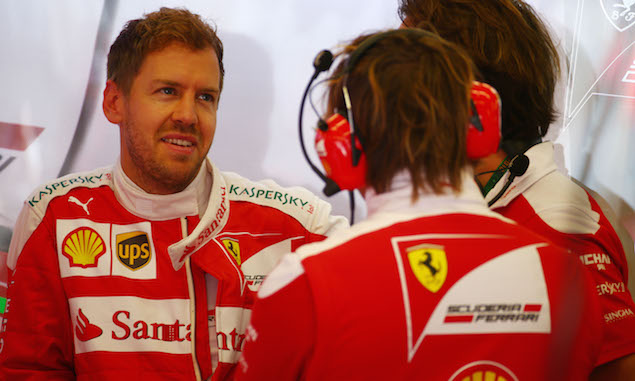 Ferrari has asked the FIA to review Sebastian Vettel's post-race penalty in the Mexican Grand Prix which cost him third place.
Vettel was promoted to third place following Max Verstappen's penalty for leaving the track and gaining an advantage, but was demoted to fifth later in the evening after the stewards handed the German a ten-second time penalty for moving under braking when defending against Daniel Ricciardo.
Following a press conference involving FIA race director Charlie Whiting which explained why Vettel was penalised - something Vettel still disagreed with - Ferrari has asked the stewards to reconsider the penalty due to "a number of new elements" which have emerged since the decision.
"Scuderia Ferrari has submitted a request to the Stewards of the 2016 Mexican Grand Prix to review their decision to penalize Sebastian Vettel for breach of Article 27.5 of the 2016 F1 Sporting Regulations as a consequence of his driving behaviour in Turn 4 of lap 70.
"This has been the first application of Article 27.5 of the 2016 F1 Sporting Regulations as interpreted on the basis of the Race Director's notes on "defensive manoeuvres" and effective from the 2016 US Grand Prix.
"Scuderia Ferrari considers that a number of new elements have come to light after the decision was rendered that make the decision reviewable under Article 14.1 of the International Sporting Code.
"Scuderia Ferrari is aware that championship rankings will not change, regardless of the outcome. But in light of its importance as a precedent for the future, and in order to provide clarity in the application of the rules in future events, Scuderia Ferrari believes that the decision should be reconsidered by the Stewards."
Romain Grosjean column: Time for Haas to raise its game
Chris Medland's 2016 Brazilian Grand Prix
FEATURE: What Rosberg need to do to win the title in Brazil
INTERVIEW: Fernando Alonso: Why F1 is no longer just for heroes
TECHNICAL: Under the skin of the Ferrari SF16-H
Keep up to date with all the F1 news via Facebook and Twitter