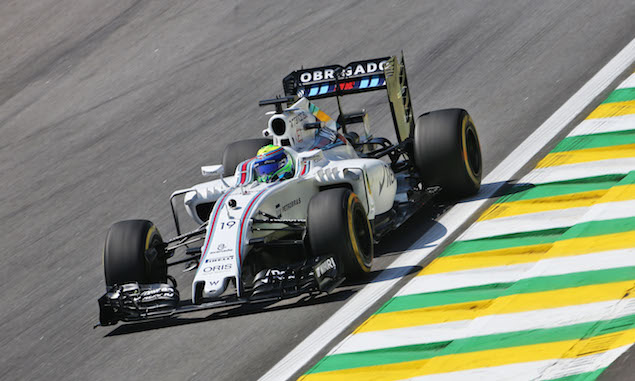 Felipe Massa says it is too early for Williams to be excited about its pace after a strong start to the Brazilian Grand Prix weekend.
While Williams is traditionally lower on the timing screens on a Friday, both Massa and team-mate Valtteri Bottas finished the opening session in the top six and the second session in the top four. However, when asked if it is too early to talk about a possible podium at his final home race, Massa replied: "Definitely it is too early.
"We know that the pace needs to be good [today] and the pace needs to be good on Sunday. So yeah, it is early but it is nice to be competitive like that. It is nice to see your name more on the top, but we have the same car as the last race. So it will not be a very easy weekend.
"But I will try everything I can to have a special [weekend] - and it is already quite special and so many surprises in the car. So for the first time my sponsor and my team changed the name [on the rear wing] and put my name on top of that. It is so great for me and very special. I really hope we have a very good day [today] and Sunday and that it gets even more special for me.
When it was put to Massa that he must be optimistic because Williams is rarely so quick on a Friday, the Brazilian admits it would be special to perform well in Brazil.
"I am always optimistic when I am here in this place. Definitely we will be even more optimistic [in qualifying and the race] and trying everything I can. That is what I am going to do and I really hope if we can be competitive here it will be a great feeling.
"We need to have a great everything to be on the top. Everything needs to be just perfect. The strategy, the qualifying and the race, which we know is not easy, but that is what we are going to try."
FP2 REPORT: 0.030s separate title rivals in FP2 at Interlagos
Silbermann says ... I'm going AWOL
Romain Grosjean column: Time for Haas to raise its game
FEATURE: What Rosberg need to do to win the title in Brazil
INTERVIEW: Fernando Alonso: Why F1 is no longer just for heroes
Keep up to date with all the F1 news via Facebook and Twitter