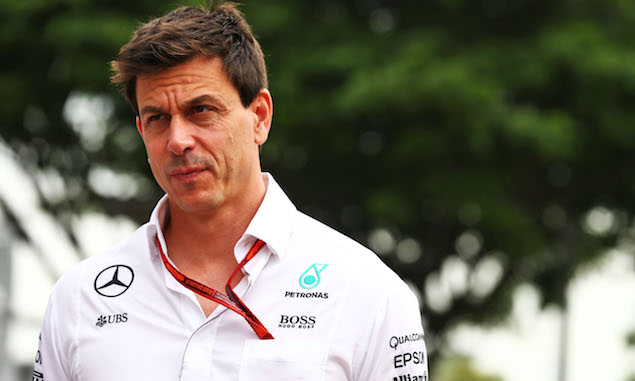 Toto Wolff admits he has spoken to Jos Verstappen about the danger of his son Max influencing the drivers' championship between the Mercedes drivers.
Verstappen was involved in an incident with Nico Rosberg at the start of the Mexican Grand Prix, with both drivers going wide after slight contact at Turn 1. While Rosberg rejoined ahead of the Red Bull and finished second to team-mate Lewis Hamilton, Wolff was unhappy with the move at the time.
Now the Mercedes boss says he has spoken to Verstappen's father - former F1 driver Jos - to ask him to ensure his son does not cause an incident which costs one of his drivers the world title.
"Jos and I talk regularly and he knows that I'm a fan of Max," Wolff told The Times. "My main message for Jos was that he should come to the races again because he seems to be the only guy that Max really listens to and respects.
"And I also said to him that it would be bad for Max if he was remembered for deciding the world championship this year through a reckless move against one of our drivers. Everybody wants to see hard racing but, for the sake of Max and of our boys, an all-in move that could ultimately kill their championship aspirations is too much."
The two Mercedes drivers were asked in the Thursday press conference if the fear Verstappen interfering with the outcome of the title race - to which Rosberg replied "No, definitely not" - and the 19-year-old joked he has yet to choose which driver to help.
"I'm still negotiating with them, who's going to pay me the most," Verstappen said. "Yeah, so we'll see, we'll see on Sunday."
FP2 REPORT: 0.030s separate title rivals in FP2 at Interlagos
Silbermann says ... I'm going AWOL
Romain Grosjean column: Time for Haas to raise its game
FEATURE: What Rosberg need to do to win the title in Brazil
INTERVIEW: Fernando Alonso: Why F1 is no longer just for heroes
Keep up to date with all the F1 news via Facebook and Twitter