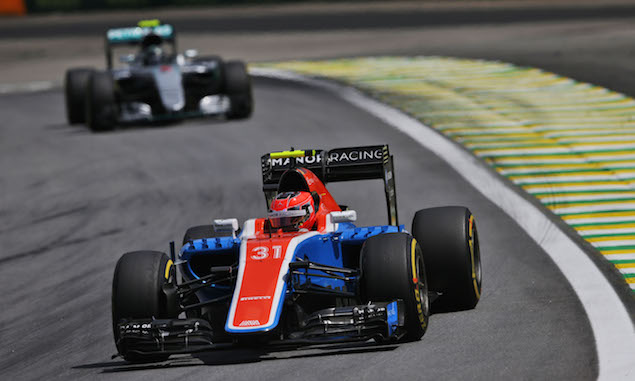 Esteban Ocon will start the Brazilian Grand Prix from the back of the grid after being a three-place grid penalty following qualifying.
The Manor driver was investigated for impeding Jolyon Palmer at the end of Q1, with the Renault being held up at Turn 4. Ocon - who originally qualified 20th - had aborted his lap when the incident occurred and the stewards handed him a three-place grid penalty despite Palmer progressing to Q2.
"At the end of the Q1 session, the Driver of Car 31 (Ocon) was on a slow lap having aborted his lap previously, while the Driver of Car 30 (Palmer) was on a fast lap," the stewards decision read. "Entering the braking area of Turn 4 Ocon stayed on the racing line at the moment when Palmer was approaching, forcing Palmer off the racing line.
"At that time, Ocon was on the radio with his team, who did not inform him of the approaching car. When Ocon did see Palmer, he moved as far as possible to the right to avoid a dangerous situation, but the Stewards concluded these were not mitigating factors, and that Ocon clearly impeded Palmer."
Ocon himself admits the penalty is fair, with the topic having been discussed in the driver briefing on Friday night.
"I take a three-place penalty now, because I was discussing with the team if we could do an extra lap or not," Ocon said. "The team didn't tell me that Palmer was coming, and I saw him at the last moment and I couldn't move at that time because it would have been dangerous.
"So I was not aware that he was coming and I blocked him, that was clear. I take the penalty, which is deserved.
"No [it's not harsh] because we discussed it in the drivers' briefing and it was much better. Everybody was moving off the [racing] line and you are not blocked anymore. So it's deserved.
"We have to move off the [racing] line on a qualifying lap. Before it was just lifting off and letting the other car past but if you go off the line you can't make your lap, so now you have to move off and let the other car go past."
Ocon also received two penalty points for the incident.
REPORT: Hamilton secures crucial pole by 0.102s from Rosberg
Silbermann says ... I'm going AWOL
Romain Grosjean column: Time for Haas to raise its game
FEATURE: What Rosberg need to do to win the title in Brazil
INTERVIEW: Fernando Alonso: Why F1 is no longer just for heroes
Keep up to date with all the F1 news via Facebook and Twitter