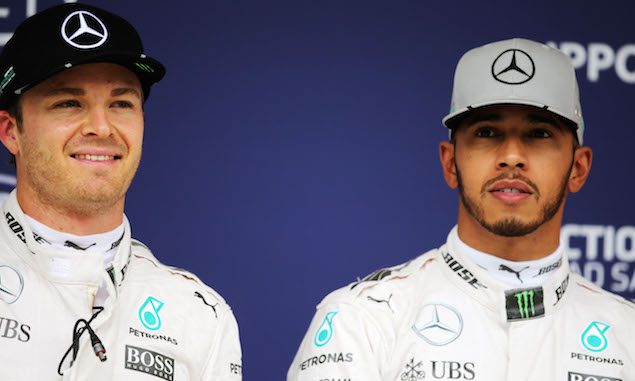 Lewis Hamilton says he likes "to think higher" of Nico Rosberg than for his team-mate to try any tricks to secure his first drivers' championship.
Rosberg will become world champion if he wins today's Brazilian Grand Prix, as he currently holds a 19-point lead in the standings. While Hamilton starts from pole position, the Briton is aware Rosberg holds the upper hand but expects his team-mate to fight cleanly as he tries to seal the title.
"I don't go into the race expecting anything less than a fair fight," Hamilton said. "I mean, of course you can look at history and you can look at what some drivers have done in the past but I like to think higher of him and that wouldn't be something he would do. But I just need to make sure I'm ahead."
And Hamilton himself says he will not be trying to disrupt Rosberg's race, despite knowing a second and a third place in the final two races will be enough for the German.
"I don't believe there is anything I can do, honestly. I'm sure you could maybe try and do something and try and be smart and then just screw yourself over, so it's not something that I'm going to do anyway. I want to win because I've been the best, not through tactics that I did or anything like that.
"Obviously I'm in this awkward position due to a lot of issues we've had this year and there's nothing I can do about that. I'm quite happy with my qualifying ... I've had 11 poles and I didn't even get to qualify in three of them.
"So I'm really happy with how the end of the season is going so far and I just want to keep pushing. As long as I do my job in these next two races that's all I can ask for."