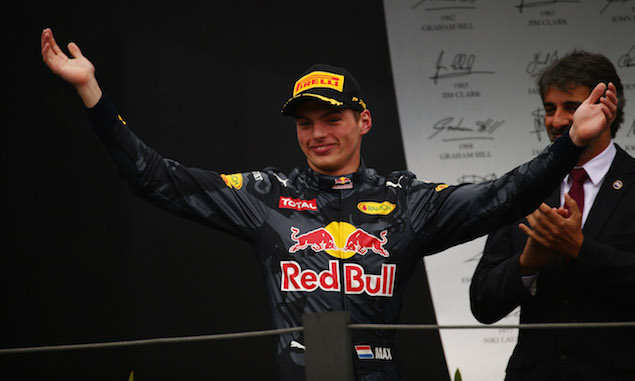 Max Verstappen says it feels "amazing" to secure his seventh podium of the season at a rain-hit Brazilian Grand Prix, especially after the Red Bull ace recovered from 15th to third in the final 15 laps.
Verstappen had already driven a brillant race from fourth on the grid, overtaking Ferrari's Kimi Raikkonen when racing started in earnest after seven laps behind the Safety Car.
The Dutchman then moved up to second following another impressive move on the outside of Nico Rosberg at the second re-start. But Verstappen lost out when Red Bull gambled on a switch to the intermediate compound and weather conditions worsened, forcing him to revert to Pirelli's full wets.
"It was an incredible race with the red flags and difficult conditions, especially the last straight was really slippery," the 19-year-old said afterwards.
"And then at the [second] re-start I managed to overtake Nico and I was in quite a comfortable position over there and then I had a massive moment.
"Maybe I clipped the kerb, locked all four wheels but I managed to keep it out of the barriers and continue still in second. Then we decided to pit for intermediates but unfortunately it started to rain again and it did not work out."
Having fallen down to 15th, Verstappen just put on a show over the remainder of the 71-lap contest, slicing through the field and overtaking his rivals in unlikely places as the teenager seemed to find grip anywhere he wanted to.
"I could not see when I was behind them so I had to take another line," Verstappen replied when it was pointed to him that he seemed to be using another race track. "To come back to the podium is of course amazing".
Verstappen's overtaking display helped win yet another Driver of the Day award.
FULL REPORT: Hamilton wins delayed Brazilian GP to take title to wire
Silbermann says ... I'm going AWOL
Romain Grosjean column: Time for Haas to raise its game
FEATURE: What Rosberg need to do to win the title in Brazil
INTERVIEW: Fernando Alonso: Why F1 is no longer just for heroes
Keep up to date with all the F1 news via Facebook and Twitter