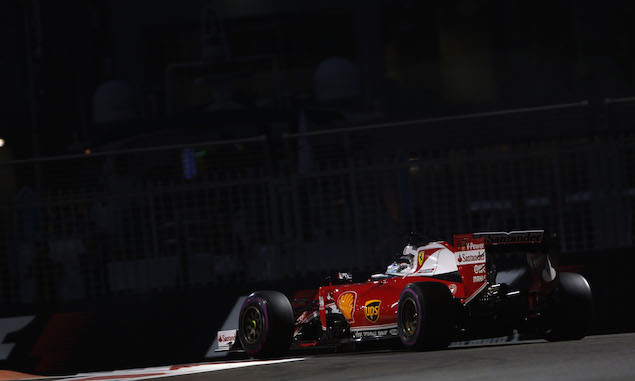 Ferrari's Sebastian Vettel says the gearbox issue that stopped his progress in FP2 at the Abu Dhabi Grand Prix "shouldn't have an impact" on the rest of his weekend.
The German was forced to pull over on the side of the track in the closing minutes of the evening session after reporting a gearbox failure on his SF16-H.
It is not the first time that Vettel has been sidelined with that kind of problem this year, but the four-time world champion says he was not using his race gearbox, so the issue will not result in a grid drop on Sunday.
"It's not ideal obviously on a Friday but it shouldn't have an impact," the 29-year-old told TV crews after returning to the paddock.
"It was quite interesting to look at the other cars. Usually I'm quite happy if I don't get the chance but today I think it was interesting even though it was only a couple of laps. I think we got most of the homework done so we should be happy.
Prior to the incident, Vettel had recovered from a quiet showing in the early afternoon to slot into third fastest in FP2, ahead of the two Red Bulls and 0.269s off Mercedes' pace.
"I think it was a better Friday for us, actually it was a very good Friday. [In FP1] on a hot track we struggled a bit, this evening things calmed down, the car calmed down. So it was actually quite good, I felt quite happy.
"On the long run I struggled a bit with the fronts early on, maybe I was a bit too aggressive, but overall the car felt good to be honest. I think we should have good pace.
"Hopefully tomorrow we have similar feeling in quali and put the car where it belongs and then we should have a good race."
REPORT: Hamilton leads Rosberg by just 0.079s in FP2
Silbermann says ... Parting gifts galore
Grosjean column: Magnussen and THAT crash in Brazil
Chris Medland's 2016 Abu Dhabi Grand Prix preview
FEATURE: Hamilton v Rosberg: 2016 F1 drivers' title permutations
Keep up to date with all the F1 news via Facebook and Twitter