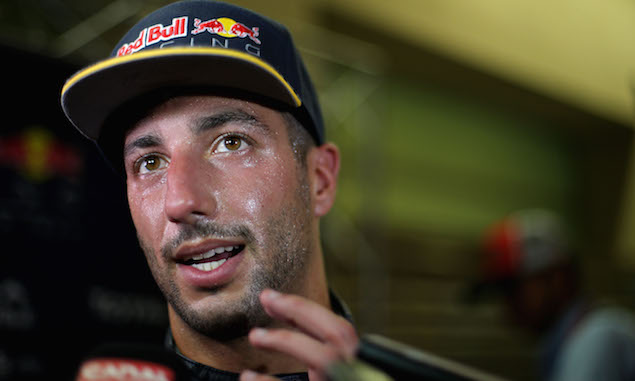 Daniel Ricciardo says Mercedes "are not miles ahead" after Friday practice at the Abu Dhabi Grand Prix, and feels he might be able to challenge the Constructors' champions in the race.
Red Bull was around half a second adrift of pace setter Lewis Hamilton in the first two sessions at Yas Marina Circuit. Ricciardo and team-mate Max Verstappen saw Ferrari's Sebastian Vettel move past them in FP2, but the Australian remains confident third on the grid is a realistic target.
"If we put it all together [in qualifying] we are more or less there," Ricciardo said. "Vettel put in a quick time. I think we will find that little tomorrow, and it will be a good fight for third place.
"Mercedes as expected are ahead. But I don't think they are miles ahead. Looking at today, maybe we could still race them on Sunday.
"On one lap we can still find a few tenths, maybe everyone else can as well, but I am confident that we can make a small step from where we were. The long run was good, and on the long run we can also find a little bit.
"We can still make the car better, so I am confident going into tomorrow we can be strong. But even more confident going into Sunday."
The Red Bull duo were quite close to Nico Rosberg in FP1. Asked whether he thinks the Formula One points leader was perhaps a bit tentative and trying to save his engine, Ricciardo wonders if he is not trying to hide his hand instead.
"I don't see any reason to hold back in practice. If it is Monaco I understand maybe you want to be careful with your equipment. But here you can definitely push and go on the limit, so we will see.
"Maybe he is holding back a bit, not showing Lewis too much, but it is going to be interesting. Everyone predicts Lewis to take the pole, so it will be interesting to see how it plays out."
REPORT: Hamilton leads Rosberg by just 0.079s in FP2
Silbermann says ... Parting gifts galore
Grosjean column: Magnussen and THAT crash in Brazil
Chris Medland's 2016 Abu Dhabi Grand Prix preview
FEATURE: Hamilton v Rosberg: 2016 F1 drivers' title permutations
Keep up to date with all the F1 news via Facebook and Twitter