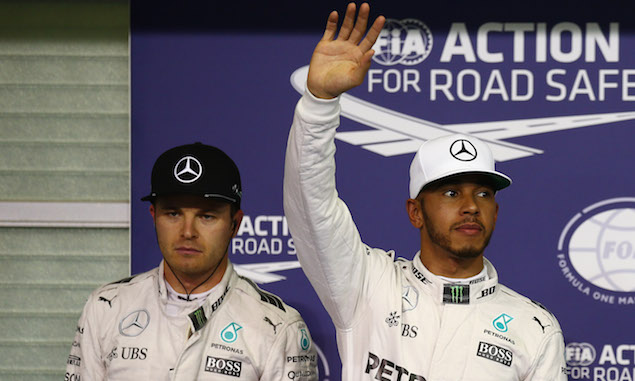 Nico Rosberg says "it just wasn't possible" for him to match Lewis Hamilton's pole position time in qualifying for the Abu Dhabi Grand Prix.
The two title rivals both improved by the same amount on their final laps in Q3, with Hamilton taking pole position with a 1:38.755. Rosberg ended the session 0.3s adrift of his team-mate and says he doesn't feel he was able to beat Hamilton at the Yas Marina Circuit.
"I came here to try and be on pole and try and win the race tomorrow, that's what I want to do," Rosberg said. "So I can't be satisfied by today, Lewis just did a good job and was a couple of tenths quicker. It just wasn't possible for me to do that time today, even though we gave it everything. But as you know there will still be possibilities tomorrow, and for sure I'll try and go for the win.
"Adrenaline is always there in qualifying, but that's what is great about it. To go on the edge and push flat out. I was feeling good out there I had a really good balance and I was quite pleased. As qualifying went on it felt better and better, I got a good lap in in the end in Q3, but not enough."
With Daniel Ricciardo starting directly behind him on supersoft tyres - which are expected to last longer in the opening stint - Rosberg is confident the ultrasoft will still prove the better tyre for the initial launch from the line.
"Yeah I guess it's better at the start of the race and we'll see how the ultrasofts hold up. But we're very confident that we've chosen the right tyre for the race tomorrow, so I'm optimistic."
Jenson Button's F1 career: 17 seasons, 15 wins
Silbermann says ... Parting gifts galore
Grosjean column: Magnussen and THAT crash in Brazil
Chris Medland's 2016 Abu Dhabi Grand Prix preview
FEATURE: Hamilton v Rosberg: 2016 F1 drivers' title permutations
Keep up to date with all the F1 news via Facebook and Twitter