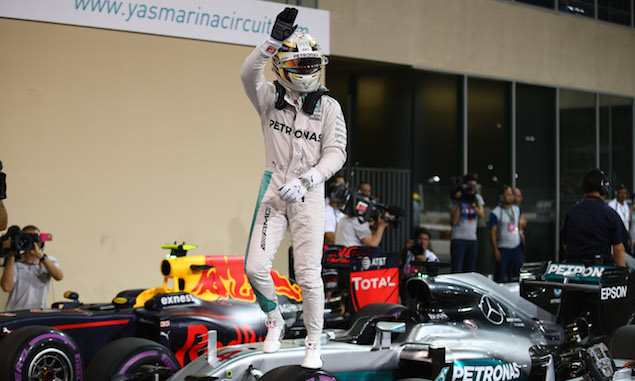 Lewis Hamilton feels he is in the "perfect position" for Sunday's title decider, after beating Mercedes team-mate Nico Rosberg to pole at the Abu Dhabi Grand Prix.
The Briton topped all three phrases of qualifying and finished 0.303s up on the Formula One points leader. Despite the final gap, Rosberg actually was quicker than Hamilton through the short first segment before the triple world champion unleashed more speed over the next two sectors.
"I knew I had pace throughout the rest of the lap so I was relatively cautious, well not cautious, but I did not overcook it into Turn 1," the Yas Marina pole sitter said. "So that's where I lost a bit of time to Nico. Otherwise, the rest of the lap I had it really under control, just making sure to maximise these areas.
"I've got the car in a real sweet spot this weekend, great work done by my mechanics and my engineers. They have done all an incredible job and I want to thank everyone back at the factory. I would not have the 61 poles that I have without them, so a big thank you to them. And yeah, perfect position for Sunday."
Despite his dominant Saturday performance, Hamilton still needs to outscore Rosberg by more than 12 points to seal a fourth world title. Asked for his game plan, the Briton added:
"So far this weekend, we've been focussed on getting this pole position, which I truly believe that I could.
"Obviously it worked. This evening, tomorrow, we'll sit and work with my engineers, my strategists to fully understand each scenario and what I have to do. Obviously I want to try and win this race."
REPORT: Hamilton secures crucial pole by 0.3s from Rosberg
Jenson Button's F1 career: 17 seasons, 15 wins
Silbermann says ... Parting gifts galore
Grosjean column: Magnussen and THAT crash in Brazil
Chris Medland's 2016 Abu Dhabi Grand Prix preview
FEATURE: Hamilton v Rosberg: 2016 F1 drivers' title permutations
Keep up to date with all the F1 news via Facebook and Twitter