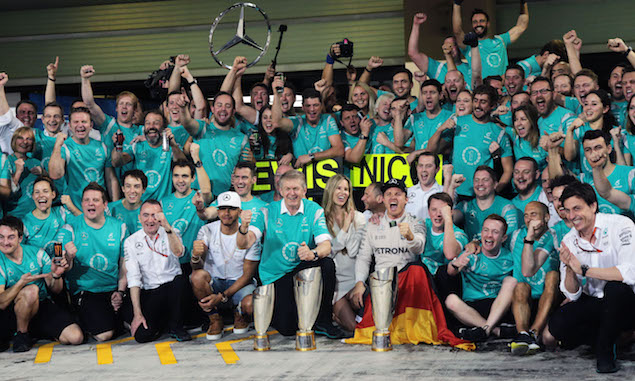 Nico Rosberg says he would have stayed in Formula One had he lost out to Mercedes team-mate Lewis Hamilton in the 2016 title fight.
The German announced his shock retirement from the sport on Friday in Vienna, saying he was not longer willing to make the same sort of commitment to defend his crown after achieving his childhood dream.
"When I was six years old and started out, the dream was very clear: it was to become Formula One world champion," Rosberg said when he was presented with his trophy at the FIA Prize giving ceremony in Vienna.
"That's what I pursued all along and it's mission accomplished. I've done it. It's a dream come true. Now on to other things, family first. In the winter there will be a lot of that and then let's see what the future holds, just following my heart."
When asked whether he would have retired even if had fallen short of winning the title, Rosberg added: "I never give up so if I came second I would have going on for another year in 2017 for sure."
Rosberg joins Mike Hawthorn (1958), Jackie Stewart (1973), Nigel Mansell (1992), and Alain Prost (1993) in the list of world champions who bowed out of F1 after winning their first and/or last title, though Mansel made a brief return in 1994/95.
Reflecting on the title run-in from the Japanese Grand Prix, where the thought of retiring first crossed his mind, Rosberg concluded:
"It was unbelievably intense and really indescribable at the last four races. That's the moment where it was my championship to lose.
"The last race is mentally the toughest thing I've done, except for watching my wife suffer through the birth of our daughter -- that was a whole other level."
"Apart from that, It was the toughest thing mentally, incredible intensity. It was all the more special to come through after that and see the chequered flag and take the title.
"Big respect also to Lewis, of course, who was a big competitor for all these years, at an awesome level and one of the best drivers out there for sure. Even that makes it that little bit more special as well that I was able to take it away from him."
FEATURE: Nico Rosberg: Going on his own terms
Technical analysis - Abu Dhabi
Scene at the Abu Dhabi Grand Prix
Abu Dhabi Grand Prix - Quotes of the week
DRIVER RATINGS: Abu Dhabi Grand Prix
Keep up to date with all the F1 news via Facebook and Twitter