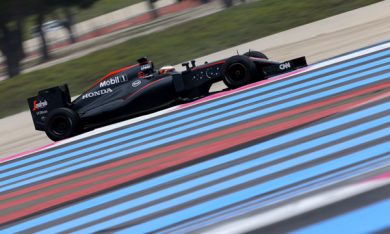 Initial preparations for the French Grand Prix's return to the F1 calendar are already underway at the Paul Ricard circuit which will host the event in 2018.
The facility located in southern France has often served as a specific testing ground for F1 as was the case earlier this year when Pirelli put its 2017 tyres through their paces.
Next season's preliminary testing will take place at the Circuit de Catalunya, in Barcelona at the end of February, but Paul Ricard has indicated that it will apply to be designated as the venue of choice for winter testing in 2018.
"We would very much like to host pre-season testing in 2018," confirmed Paul Ricard boss Stéphane Clair.
"Our track is particularly well suited for development work and the teams appreciate the quality of our facility."
Paul Ricard already enjoys an artificial wet track system but the circuit is looking to innovate with a heated tarmac system which could compensate for the usually low track temperatures encountered during winter testing.
Stéphane Clair also divulged that the basic layout envisaged for the 2018 French GP is set to include a chicane located on the long Mistral straight, much to many fans chagrin apparently.
But Clair defended the decision which he said would actually enhance the racing by offering  overtaking opportunities.
"There are several possible Grade 1 layouts, some are shorter, there are many solutions. This one looks like the most interesting one for the show, in our eyes," Clair told Motorsport.com.
"Keeping the full straight doesn't make sense, no interest for Formula 1 – in a few seconds, the cars reach full speed, so there's no point keeping them at full speed on the whole straight, there's no point for the show or the driving.
"However, using the chicane will create another overtaking opportunity and a big braking area, with more spectacle.
"That's rather what we aimed at, knowing that exiting the chicane, they'll be flat out through Signes anyway, which will probably make it the quickest corner of the championship."
2016 team-by-team review: Part two
2016 team-by-team review: Part one
Andrew Green: Force India's smooth operator
Keep up to date with all the F1 news via Facebook and Twitter