Formula 1 has already committed itself to a carbon neutral future with a major overhaul of its engine regulations coming into effect in 2026, but Nico Rosberg has warned that this might still not be far enough - or soon enough.
The 2016 Formula 1 world champion says that governments around the world are accelerating legislation banning internal combustion engines that might make it impossible for F1 to avoid going all-electric even sooner than planned.
"They are going with synthetic fuels, which for mobility as such is not going to be the best solution," current Extreme E team owner Rosberg told The Race website when asked about the sport's current plans.
"Synthetic fuels are very relevant for other mobility sectors, might it be aeroplanes or container ships or trucks or whatever," he continued. "F1 is going to go down that route and will play a key role in developing these e-fuels.
"Hopefully as a result, that will benefit all these other mobility sectors. But is that enough for F1, to be relevant with e-fuels as the only mobility thing to be using e-fuels?
"That's a bit of a question mark for the long term. Maybe, as Alejandro says, they will have to go electric," he added, referring to the co-founder and chairman of the FIA's all-electric Formula E world championship, Alejandro Agag.
Agag said he wants to be part of F1's strategy to turn to electric power as an alternative fuel, and predicted that electric cars will soon be quicker than current combustion engined F1 cars.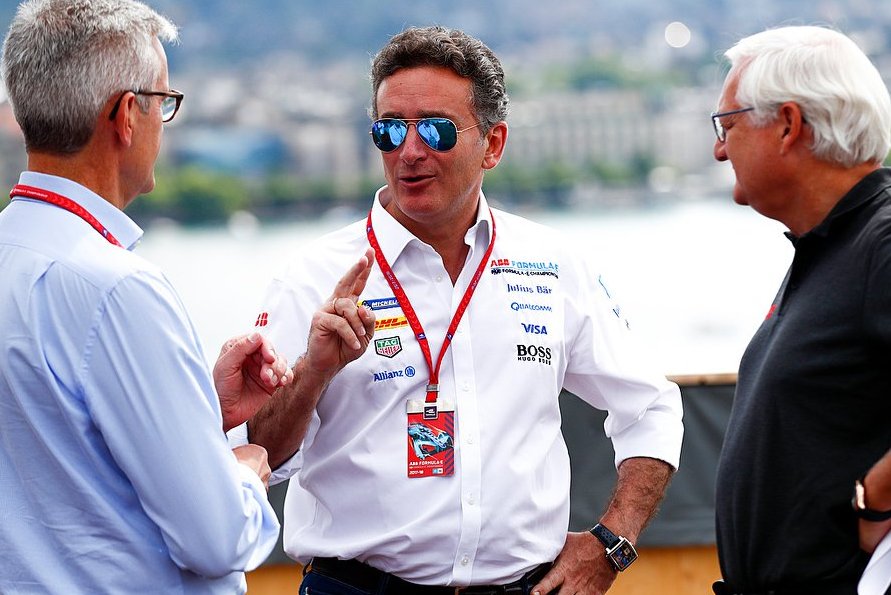 "By developing battery technology in electric cars, we will go faster one day," Agag asserted. "We could go faster today, the only thing is we would have no energy in the battery.
"But in terms of propulsion, we could put four motors - one on each wheel - and go faster than Formula 1 for 10 minutes," he argued. "This will come. The amount of energy the battery can store will arrive, the battery will be lighter.
"Already the progression we've had in Formula E through Gen1, Gen2, Gen3 – it's staggered. This is how I see it.
"Unless someone says: 'No, we'd prefer to go slower and continue with gasoline' then fair enough," Agag told an event hosted by Formula E sponsorship partners Julius Baer in Monaco. "But we're not there yet."
That suggests a future existential clash between F1 and Formula E. As part of the agreement establishing the all-electric series, the FIA won't sanction a fully EV and hydrogen single-seater series before 2039 - which includes F1.
"We have in Formula E an exclusive licence for the championship. We will have an exclusive licence for hydrogen, it's in our licence too," Agag said.
"So for the moment Formula 1 is approaching this as covering the biofuel sciences, synthetic fuels ... which is another of these technologies that may come into the mix.
"It's one of my real objectives, to find a way where F1 and Formula E can exist in parallel in a very coordinated way, so let's see if we can make it happen.
"F1 has a history which is the history of motorsport, the moments of glory," he argued. "That's impossible to 'get' - [if] you create a new championship, you cannot just go seventy or eighty years back. History is very important."
Rosberg agreed that the two series could and indeed must find a way to co-exist, even if F1 was forced to switch to battery power sooner than planned.
"I see the opportunity [for F1 and Formula E] to co-exist very much because there are many big differences," he said. "I mean, Formula E is racing in city centres.
"That alone is already such a powerful attraction," he argued. "F1 doesn't have that privilege of racing in the centre of London, in the centre of Paris, in the centre of Hong Kong, and that's amazing.
"This is very unique to Formula E. There is an ease of access as a result, also to all the people who are in the city," he said. "So I think, with time, it will keep growing and have this natural co-existence [with F1]."
Gallery: The beautiful wives and girlfriends of F1 drivers
Keep up to date with all the F1 news via Facebook and Twitter