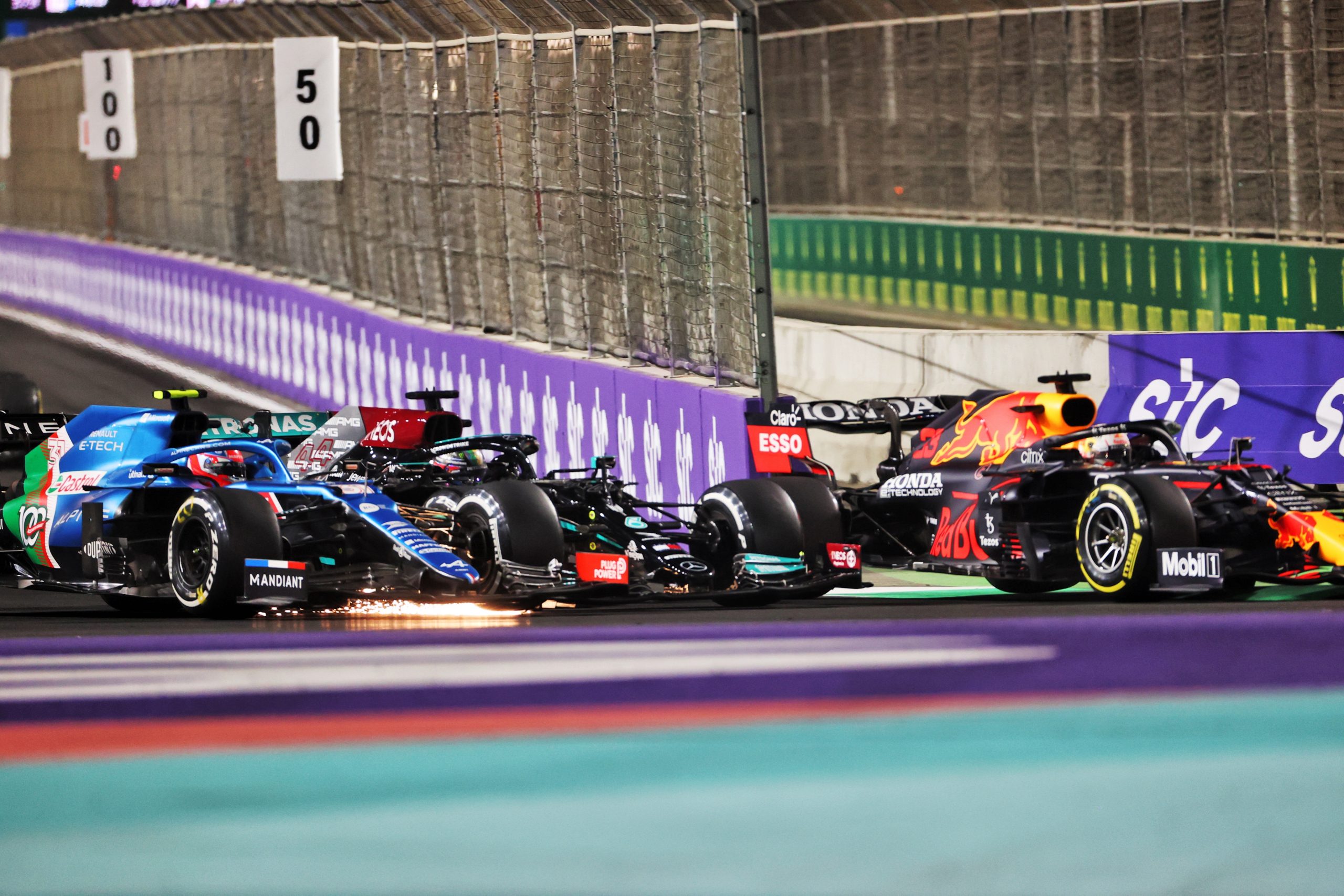 Esteban Ocon (P4, 12 pts): 9.5/10
All eyes might have been on the battle at the front, but for our money the driver of the day award for the Saudi Arabian GP has to go to Alpine's Esteban Ocon. Even allowing for his victory in the equally chaotic Hungarian GP in the summer, and team mate Fernando Alonso's surprise podium two weeks ago in Qatar, this was a surprisingly strong and effective outing for the team and for Ocon especially. Sixth at the end of Friday's practice session, he made it through to the final round and planted himself into ninth place on the grid for the start of the race under the floodlights. He passed Yuki Tsunoda and Pierre Gasly at the start, and picked up sixth place when Lando Norris pitted just as the safety car came out for Mick Schumacher's accident. When the race resumed, Ocon took the opportunity of Sergio Perez spinning and Max Verstappen sweeping Lewis Hamilton off at turn 1 to sensationally dart past Hamilton and Valtteri Bottas to pick up second. Some extraordinary deal-or-no-deal haggling between race control and Red Bull ended up promoting Ocon to pole for the second restart, and while he was inevitably quickly disposed of by Verstappen and Hamilton he soon settled into third place for the rest of the afternoon. That is, except for the final ten metres when Bottas brutally out-dragged him to the line out of the final corner and dashed his dreams of what would have been another hugely deserved podium appearance.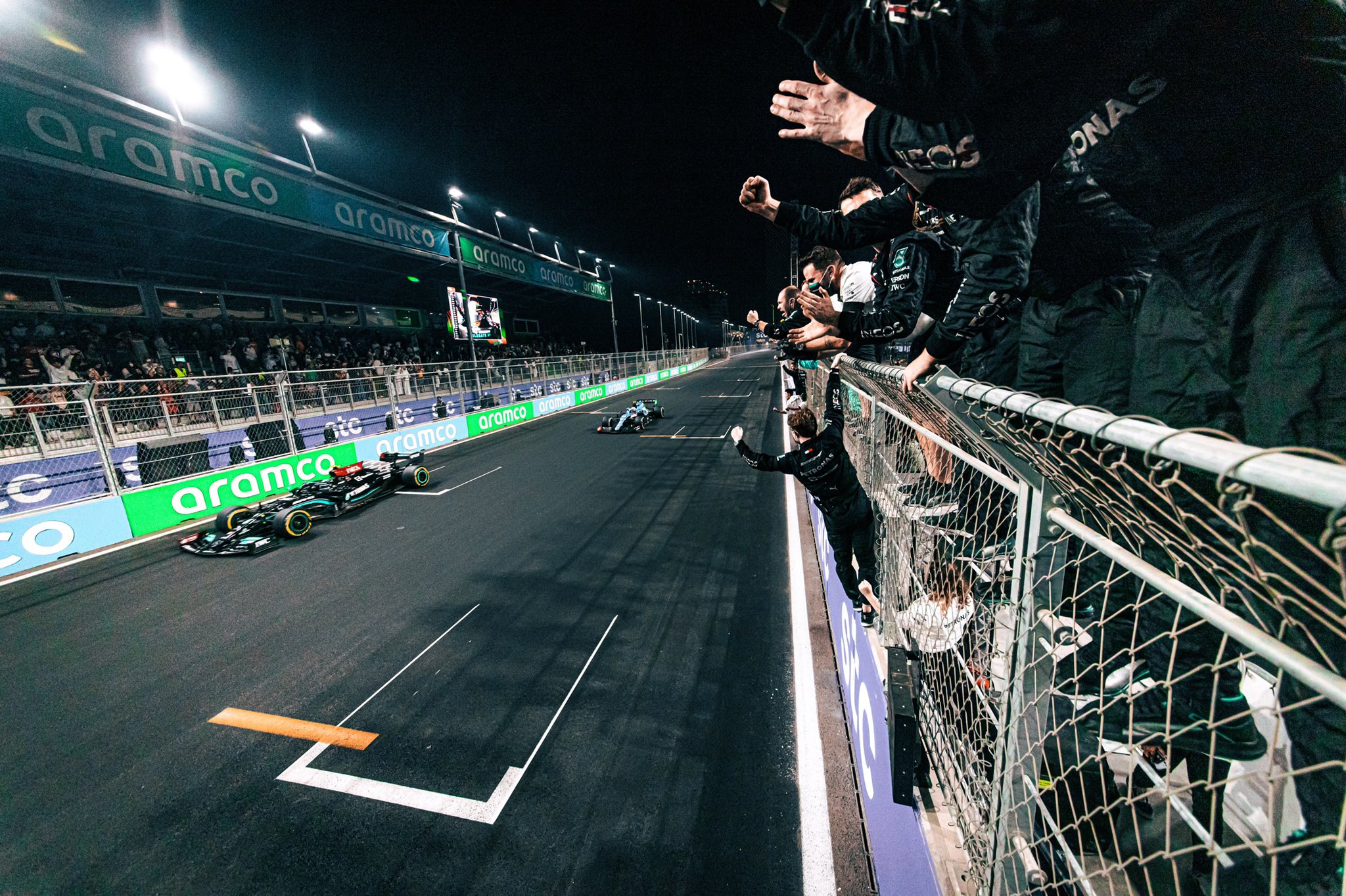 Valtteri Bottas (P3, 15 pts): 8/10
The reality that his time at Mercedes is coming to an end - this was Valtteri Bottas' 100th outing for the team after a five year partnership that has seen him pick up ten wins and 20 pole positions - and that his role is now very much to do everything possible to help Mercedes and Lewis Hamilton clinch the respective team and driver titles is possibly taking the edge off the Finn's final outings for the squad. He seemed just a little too laid back and anonymous at times this weekend. And yet that said, he can still pull something special out of the bag when it really matters, such as a Mercedes 1-2 at the end of Friday's practice and at the culmination of qualifying (despite a late fuel leak scare, precautionary power unit change and brief misfire problem) to secure a front row lock-out for Sunday's grid. He then did well to hold off Max Verstappen when the racing got underway. Like Hamilton he made the sensible call to pit at the first sign of a safety car but got caught out by Sergio Perez getting spun out at the restart, all of which dropped him back to fifth between Daniel Ricciardo and Pierre Gasly. At that point he seemed to go to sleep (maybe someone forgot to pop an extra espresso into his drinks delivery system?) and it wasn't until lap 40 that he picked off the McLaren. It then took Toto Wolff shouting down the team radio to spur him into a last ditch impressive assault on Esteban Ocon, culminating in a drag race to the line for the final podium place and what could prove to be crucial points for Mercedes in their constructors championship battle with Red Bull.