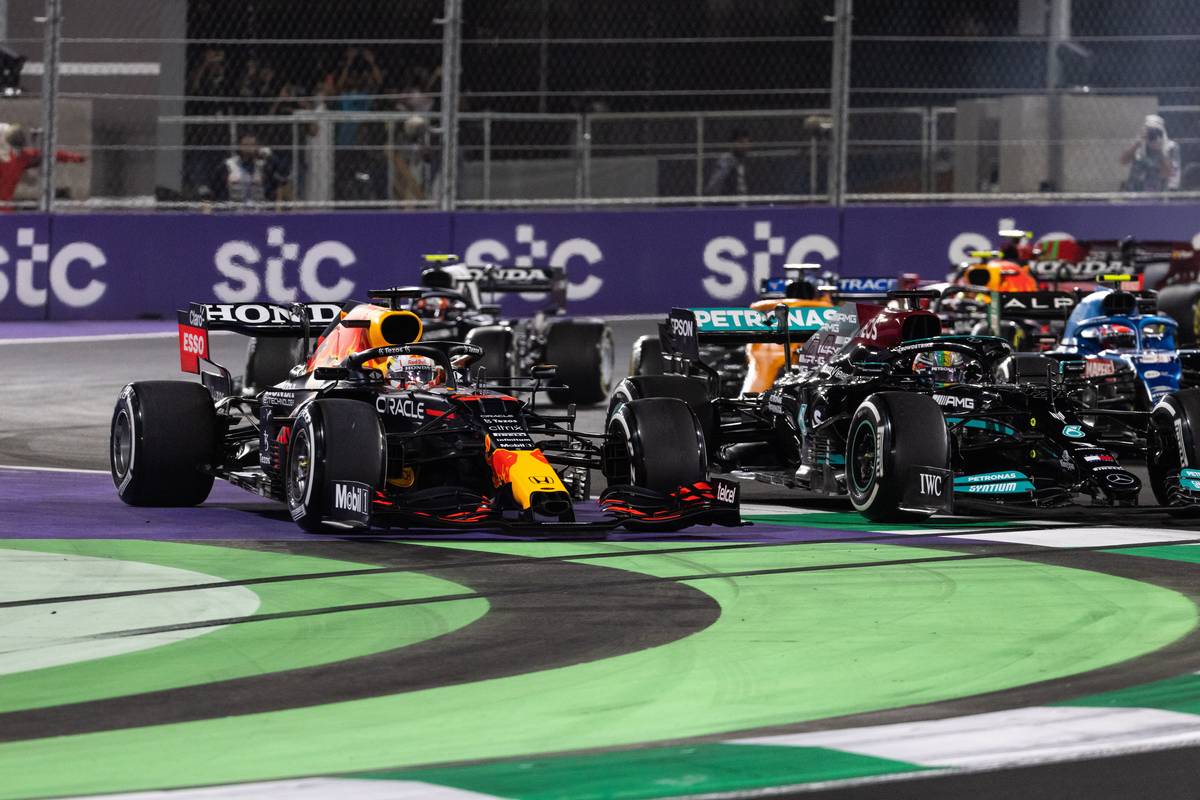 Max Verstappen (P2, 18 pts): 8.5/10
Max Verstappen was crowned driver of the day by his legion of adoring fans, but realistically this was probably one of his most troubled performances of the season. Is the pressure finally getting to him? There had been no signs of worry on Friday, despite ending practice slower than Lewis Hamilton, and he was confidently back in charge for final practice. In qualifying it looked like Hamilton had left the door wide open for Max to snatch pole at the end of Q3 with Verstappen producing a string of purple sectors, only to make a "terrible" error running too deep into the wall at the final corner. He was lucky not to incur any penalties for repairs and still take third place on the grid, but he took the start rather gingerly just in case and it looked like that had handed the race to the Mercedes drivers. A restart gave him a second chance, and he used his controversial tactic from Brazil - sweeping Hamilton wide off track - to take the lead. Fair racing, or too much? Discuss amongst yourself and mail in your conclusions so we have something hot and toasty to read over Christmas. It's not like the race stewards are giving us a consistent line to work from, because this time they ordered Verstappen to hand the place back. Moments later Verstappen retook the lead - legitimately this time - and from that point on he absolutely refused to allow Hamilton to find a way past on (or off) the track or indeed anywhere in the same post code. Finally race control decided that he was going too far in his defence, and after a messy misunderstanding resulting in contact between the pair Verstappen was handed a ten second penalty for what looked worryingly close to 'brake testing' his rival. It meant it was Hamilton who walked away with the win, leaving Verstappen wondering what more he has to do to secure that title in Abu Dhabi.
Lewis Hamilton (Pole, P1, Fastest Lap, 26 pts): 9/10
Sunday's Saudi Arabian Grand Prix was without question a race for the ages, and it's hard to argue that it was the toughest, most brutal race in Lewis Hamilton's illustrious Formula 1 career after which the 36-year-old looked dazed and totally drained. Small wonder, because the seven-time world champion poured everything into his latest title campaign this weekend. He went into the race with something of a 'lucky' pole after Max Verstappen crashed at the end of qualifying, and the Mercedes front-row lock-out seemed to have delivered handsomely when Hamilton and Valtteri Bottas executed a perfect start when the lights went out. What initially looked like an easy night then went increasingly sour: Mercedes pitted both drivers during an early safety car for Mick Schumacher's accident and then watched in horror as a sudden red flag meant Verstappen now had a 'free' stop after taking over the lead. Hamilton got the better restart only to be swept wide by Verstappen, while a second restart left the duelling pair out in front in a league of their own. Verstappen continued to play as hard as he knew how to, leaving Hamilton incensed by the Red Bull driver continually going 'over the limit'. In the end race control took Hamilton's side, but a miscommunication (or maybe not) saw Verstappen suddenly slow and Hamilton ran into the back of him before the positions could be exchanged. It wrecked the Mercedes' front wing and Hamilton was very, very lucky to be able to go on to pass Verstappen and finish the race from there, picking up the point for fastest lap as well meaning that he heads into the season finale at Abu Dhabi dead level on points with Verstappen. The last (and only) time that's happened before was in 1974, so don't you dare say that F1 isn't rewriting the history books with this year's astonishing championship battle.