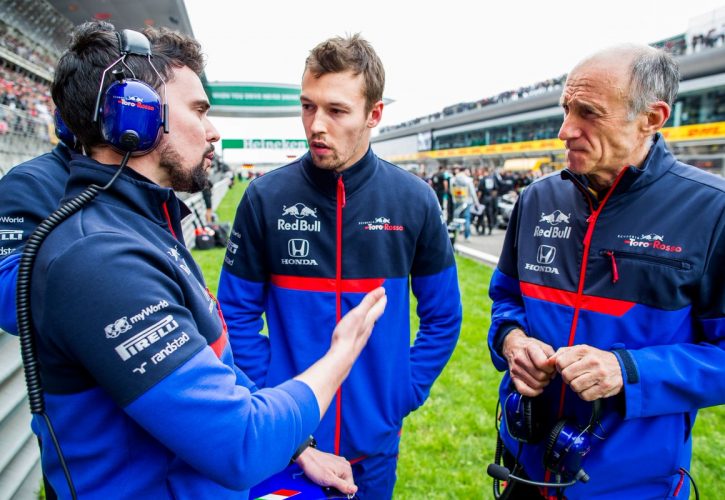 Toro Rosso's Daniil Kvyat says the Chinese Grand Prix stewards agreed that the penalty handed to him for his involvement in Sunday's first lap incident was harsh.
As the field was jockeying for position after the start of yesterday's race, a twitch of oversteer in the middle of Turn 6 put Kvyat a little out of line, the Toro Rosso making contact with the McLaren of Carlos Sainz before locking wheels with the Spaniard's team mate Lando Norris.
Kvyat was deemed responsible for the action and handed a drive-thru penalty, a decision he felt was unfair and which he took up with the stewards in a lengthy post-race meeting.
"I think we found a good understanding, but we disagree on few things, and it was a very long meeting," said Kvyat.
"I think they kind of understand that they were quite harsh today, I could feel it in the post-race conversation.
"I don't want to go in details, because I think we closed behind closed doors. So I think we want to respect this agreement.
"But I think the incident was a very basic first lap sandwich and misunderstanding.
"It was three cars in one corner exit. It was a chain reaction, an incident, and I got hit – that's what I felt, that I got hit from behind, that's all I felt really. So for me it was pretty clear."
Sainz felt that Kvyat should have been more patient on the race's opening lap, but Toro Rosso team boss Franz Tost defended his driver, insisting the penalty was "unjustified".
"This penalty for me is unjustified," Tost told Motorsport.com.
"Norris was off the track, and he came back very aggressively, so what should Daniil do? For me this decision is not correct.
"You can't change it, but Daniil and Graham [Watson] went to the stewards to tell them that this is our opinion, and I share this opinion because I watched it on TV once more just now with the engineers.
"It cannot be that someone is off the track, is coming back, and then the other one is there. What should he do?"
Gallery: The beautiful wives and girlfriends of F1 drivers
Keep up to date with all the F1 news via Facebook and Twitter