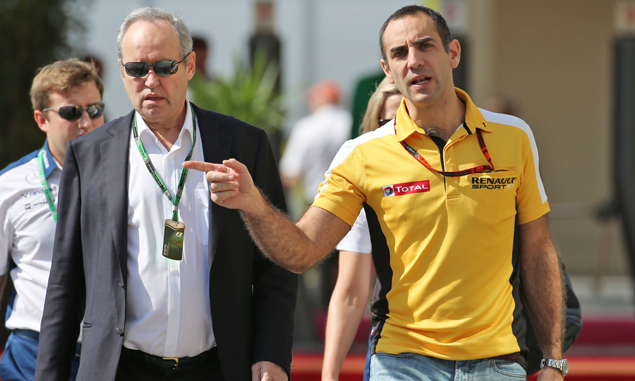 Renault Sport F1 managing director Cyril Abiteboul says the French manufacturer will enter the 2016 season with "humble expectations", as it focused first on building a sound structure.
After months of uncertainty and speculation, Renault finally completed the takeover of Lotus to return as a works outfit next year.
Company CEO Carlos Ghosn immediately warned that it would take three seasons for the constructor to be competitive, with 2016 pretty much seen as a transition due to the lateness of the deal with Enstone.
"I think we need to be honest," Abiteboul told Motorsport.com when asked about Renault's year 1 target. "When you decide to go F1 racing on December 18, there is no way that you can expect to have fantastic results.
"The target for next year, it is not just about scoring points in the championship. We need to be humble in our expectations for next year."
Renault is coming off two challenging campaigns in the 1.6-litre V6 turbocharged era, having struggled with both reliability and performance. This tough situation was further compounded by Red Bull's public criticisms of the French manufacturer.
As the engine factory in Viry-Chatillon reunites with Enstone's chassis department, Abiteboul wants to ensure seamless collaboration in order to reel in the likes of Mercedes and Ferrari down the road.
"In my opinion, next year will not only be successful if we are doing well on track. There are many things that we want to do well next year, starting with the structure."
"How well do we integrate the structure? How do we integrate the people, the organisation? How do we put in place the links between the two entities? The culture, the mindset? How do we start catching up properly on the engine?
"We want an engine that is completely reliable at the start of the season, and at the first test. We want to make substantial steps."
Besides its works effort, Renault will carry on supplying power units to Red Bull, though these will be branded TAG Heuer.
2015 F1 season: F1i's drivers review 21-11
2015 F1 season: F1i's teams review