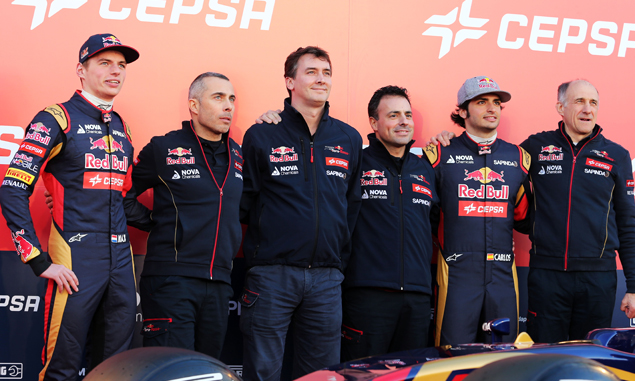 Toro Rosso technical director James Key says that while Max Verstappen and Carlos Sainz' driving styles are fairly similar, the Dutchman is more aggressive in races.
Many eyebrows were raised when the Italian team decided to entrust its 2015 challenger to an all-rookie line-up, but both debutants enjoyed a fine maiden campaign to score double the amount of points Toro Rosso had amassed the previous season.
Asked to compare his two drivers in a wide-ranging interview with Sky Sports, Key replied:
"They're normally quite similar, but I suppose they're sensitive to slightly different things. In a learning year that sometimes changes a bit race by race as the learning process goes on.
"In qualifying it's been pretty close between them. Max had the recent good form, but Carlos was top 10 in his first race, which was good, and had a bit of bad luck of late. But comparisons will probably be better drawn this year.
"Max certainly in races is pretty aggressive and brave and that has won him a lot of praise and it's been excellent to watch. He's got confidence in himself and the car to go and make some moves that not everyone would risk."
While Verstappen's ballsy overtakes immediately captured the fans' attention, Key insists his team-mate has done an equally impressive job fresh off winning the 2014 Formula Renault 3.5 Series title.
"Carlos has also done a bit of that, maybe less visibly, but he's much more disciplined in the way he goes about things. So he thinks hard about what he's doing, what's coming up, and 'is it right to push now or do I need to wait, bring the tyres in later and really push?'
"So he's thinking a little bit more and as a result is perhaps slightly less aggressive, but with a longer-term plan in mind in the race."
Verstappen and Sainz stay at Toro Rosso for their sophomore F1 campaign, with the dynamic duo set to run year-old Ferrari engines in the STR11, which has already passed the FIA's mandatory crash tests.
Tell us more about your job at Red Bull, Guillaume Rocquelin
Key dates for the 2016 F1 season
Keep up to date with all the F1 news via Facebook and Twitter