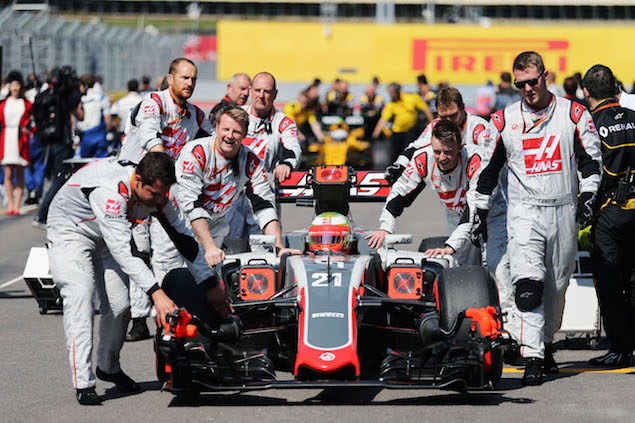 Haas team principal Guenther Steiner is confident Esteban Gutierrez can soon make it into the points-paying positions following a troubled start to his 2016 campaign.
Making his return to a full-time F1 role with the US newcomers, the former Ferrari test driver has yet to open his tally this year whereas team-mate Romain Grosjean has already scored three times in four races.
Both drivers shared the eighth row of the grid at the recent Russian Grand Prix but while the Frenchman managed to find his way up the order on a chaotic first lap, Gutierrez ended up getting a 10-second penalty for ramming into Nico Huldenberg's Force India.
"I think Esteban had a bad start, a lot of wheelspin, and then just when everyone was slowing he braked too late basically," Steiner said. "Romain was the lucky one on that, he got away with it, he got around them and put himself in a good position. As he normally does, he performs well under these circumstances. He uses his experience and his speed to stay there, not make mistakes so fantastic.
"I mean, it was a little bit unfortunate with Esteban but we will get him to the points this year in the not too far future. It's difficult to race when you are back there on your own, you cannot compare it to anybody.
"You are a little bit out on your own, so you bring the car home and you learn and prepare yourself for the next race, nothing more to be done after you have to change the front wing."
While Gutierrez's Sochi woes were his own undoing, there is no denying the Mexican's misfortune so far this year. The ex-Sauber man was hit from behind by Fernando Alonso in Australia, retired with a brake failure in Bahrain, and raced without his DRS in China.
"I think he has had quite a few unlucky circumstances for him," Steiner further commented. "Hopefully next time it is better. He needs now to focus on the next race, which he will, and try to do the best.
"But in qualifying he was just a little bit behind Romain and he's doing a good job for the team. He just had a bad start and that ended his race, that was it. If you have to come in and you lose all this time in the first lap you are gone."
DRIVER RATINGS: Russian Grand Prix
REPORT: Rosberg eases to win after Kvyat takes out Vettel
Breakfast with ... Martin Brundle
Keep up to date with all the F1 news via Facebook and Twitter