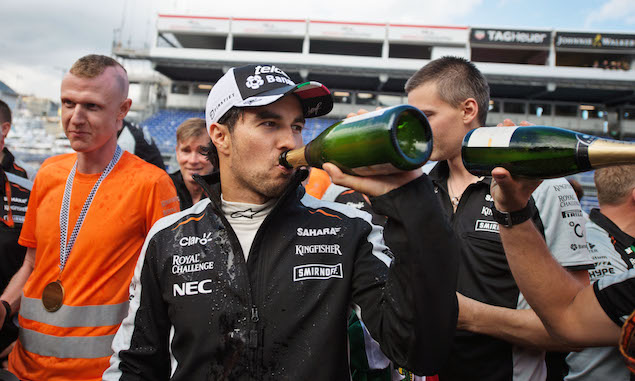 Sergio Perez says his time at McLaren was not a fair reflection of his ability and hopes his podiums for Force India earns him another seat with a top team.
Having impressed for Sauber, Perez was brought in as Lewis Hamilton's replacement at McLaren in 2013. The season was a big disappointment, with an uncompetitive McLaren failing to score a podium and Perez securing a best result of fifth place before he was unceremoniously dropped at the end of the year.
Moving to Force India, Perez has since scored a podium in each of his three seasons with the team and he says too many people focus on his one year at McLaren.
"Well, I hope not only this one, I hope what I have been doing over the past years," Perez said when asked if his podium will put him on the radar of top teams.
"I had a really tough time at McLaren and it seems that this is what everyone remembers, my time at McLaren but no one remembers my time at Sauber, my time at Force India.
"All I can do is keep doing my job, keep doing as well as I can, keep improving as a driver. I think in the last years I have improved a lot. I'm a more complete driver in all aspects, qualifying, race, race pace, better experience. So if the opportunity ever comes, I will be ready for it and I'm up for it. If not, all I can keep doing is doing my job."
Perez is currently ninth in the drivers' championship after his third place in Monaco, leaving him above both McLaren drivers in the standings.
Monaco Grand Prix - Quotes of the week
Driver ratings - Monaco Grand Prix
Technical feature: What will the 2017 F1 cars look like?
Daniil Kvyat exclusive: Time to think about life after Red Bull
Keep up to date with all the F1 news via Facebook and Twitter