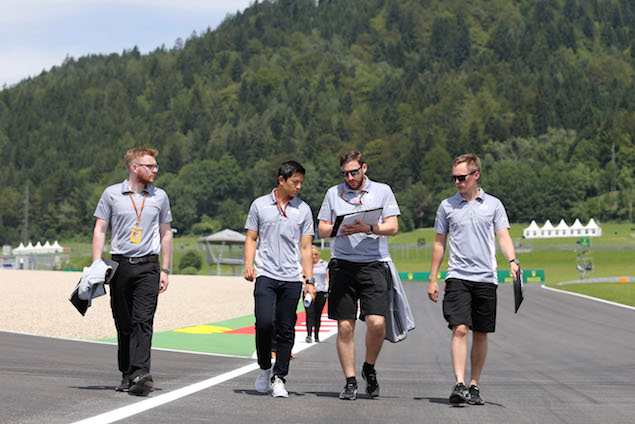 Rio Haryanto hopes his recent progress helps him towards cementing his seat at Manor for the second half of the 2016 Formula One season, though he does not have any timeframe as to when the final decision will be made.
The 23-year-old outbid the likes of Alexander Rossi and Will Stevens to take the final spot on the grid last winter, after the Indonesian government pledged to support his foray into F1.
However, it then emerged that Haryanto's drive was only safe until the British Grand Prix, which takes place next week. In order to raise the money necessary to extend his Manor spell, a crowd-funding campaign has been launched in Indonesia.
Quizzed about the latest on that front, Haryanto admitted to having little information to share.
"I don't know yet," the former GP2 Series race winner said. "What I've been told, it's going really well.
"I just have to keep doing my best, trying to deliver the best results I can and we'll see what happens next. Perhaps you can ask the people at Manor (laughs)."
Asked whether he felt his on-track performances could boost his prospects, Haryanto replied: "I hope so."
The Indonesian has been giving his highly-rated team-mate Pascal Wehrlein a hard time so far this year, especially in qualifying where the rookie pairing are evenly-matched across the first eight races of the season.
"I'm making progress, I'm happy with my progress," Haryanto added. "The key is that I feel I understand the car better as the weekend goes on.
"Working with the team and the engineers has gone really well, as well as in terms of fine-tuning the car. This always bring us in a good direction and has allowed me to gain quite a lot of time in qualifying."
However, Haryanto concedes he needs to convert his Saturday form into stronger results on Sunday. Two weeks ago in Azerbaijan, he came very close to getting into Q2 after outqualifying Wehrlein, only to be involved in a costly skirmish at the start of the European Grand Prix.
"What happened in Baku was a shame because it could have been a good race. Obviously, a contact can happen to anyone.
"It's difficult to say how the race'd turned out without the contact but I need to work on races as well, to have a good pace throughout the whole race."
Exclusive Daniel Ricciardo Q&A: 'I'm also the real deal!'
Chris Medland's 2016 Austrian Grand Prix preview
Exclusive Felipe Massa Q&A on a Williams resurgence and his future
Romain Grosjean interview: I can stop Haas sliding
Keep up to date with all the F1 news via Facebook and Twitter