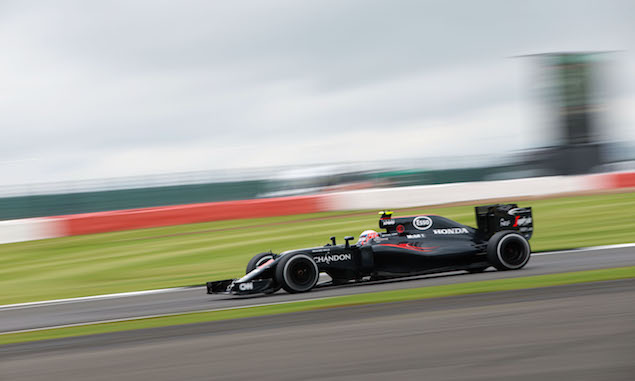 McLaren racing director Eric Boullier wants the team to be able to show the full potential of its car at this weekend's Hungarian Grand Prix.
McLaren has been making steady progress in recent races, aided by power unit upgrades introduced by Honda at the Canadian Grand Prix and again last weekend at Silverstone. The team has so far scored 32 points this year with a best result of fifth place in Monaco and Boullier is hoping the characteristics of the Hungaroring will help deliver another strong result.
"We head to the Hungaroring off the back of a positive couple of days testing at Silverstone," Boullier said. 'The grand prix weekend was certainly a challenge, but knowing the characteristics of the circuit as we do, we were prepared for a difficult race, although it's still disappointing not to have finished in the points.
"The test, however, was encouraging, and we definitely maximised the track time to collate some valuable data which our engineers in the UK and Japan are putting to good use on the development of the MP4-31. Not all will apply directly to the race in Hungary, of course, but we certainly hope that we can align the strengths of our package with the unique nature of the Hungaroring circuit.
"Over the past few races, we've endured some bad luck, made a few small mistakes, and suffered some reliability niggles. But, if we can enjoy a smooth weekend, I'm hopeful we can fulfil the potential that our package has shown at various points throughout the season so far, on both sides of the garage, and secure a result that, statistically, we know we're capable of on this type of circuit."
Honda's head of F1 project Yusuke Hasegawa says the Hungaroring is still challenging even if outright power is less important.
"Though the Hungaroring is not a power-oriented circuit, it still requires precise energy management throughout every lap of the race," Hasegawa said. "It's also a circuit where overtaking is extremely difficult, so it'll be important for us to get the qualifying lap correct.
"Our target again is to reach Q3 and be in a good place to score more points, for which we have two skilled drivers that we have complete trust in to drive brilliantly through the gruelling 70-lap race."
Closing the gap? 2016 constructors points progression
FEATURE: Red Bull Racing: Be My Guest
From the cockpit: Felipe Nasr on the green grass of home
Keep up to date with all the F1 news via Facebook and Twitter