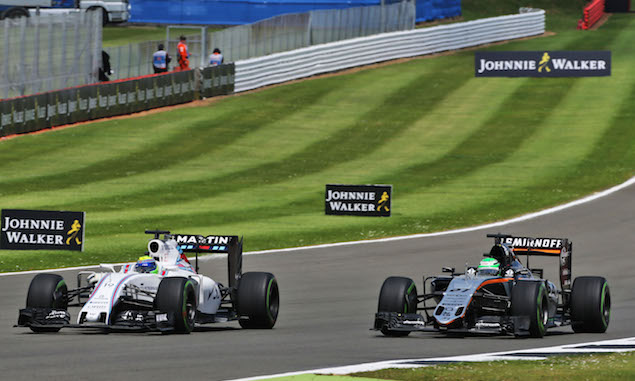 The Hungarian Grand Prix will provide a good test of Force India's credentials to challenge for fourth place in the constructors' championship.
Force India finished fifth last year and started this year slowly but an upgrade introduced in Barcelona has seen the team take a clear step forward and start to close in on Williams. A return of 14 points at Silverstone - while Williams failed to score - saw Force India close the gap to 19 points, but both cars retired in Hungary last year with suspension problems a concern.
Team principal Vijay Mallya believes the different type of circuit will highlight how strong Force India is likely to be for the rest of the season.
"Budapest last year was a pretty challenging weekend for the team and a race we prefer to forget," Mallya said. "So things can only get better this year. The twisty layout of the Hungaroring is the complete opposite of Silverstone so it will be interesting to see how we perform there. We've worked hard to improve the car through low and medium-speed corners so I think we should be in good shape this weekend."
And Mallya believes scoring consistently strong points will be the key to overhauling Williams in the second half of the season.
"I thoroughly enjoyed the Silverstone weekend. The atmosphere was fantastic and it was great to see a full house on Sunday. The enthusiasm from the British crowd showed Formula One at its best. Meeting fans in the campsites was great fun and I'm pleased they were treated to an entertaining race.
"I'm very proud of our performance at Silverstone. 14 points represents our best ever score from a British Grand Prix and it means we are closing down the gap to fourth place in the championship. I take real encouragement from our pace across the whole weekend, especially during the race. With half the season to go, there's no reason why we can't score good points at every race. If we want to fight for fourth, that's what we need to do."
Closing the gap? 2016 constructors points progression
FEATURE: Red Bull Racing: Be My Guest
From the cockpit: Felipe Nasr on the green grass of home
Keep up to date with all the F1 news via Facebook and Twitter