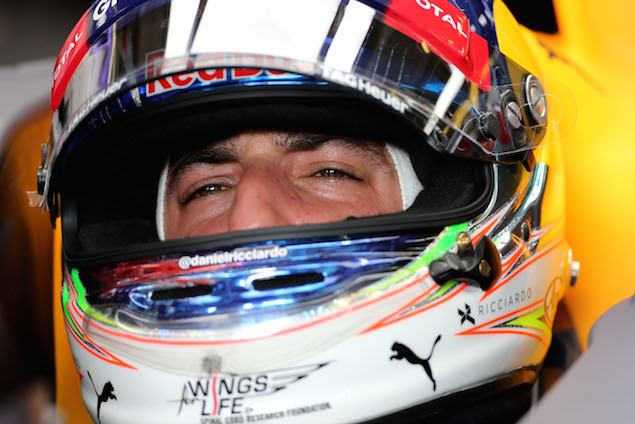 Daniel Ricciardo says he and Red Bull are happy to be "sitting second best" to Mercedes after Friday practice for the Hungarian Grand Prix, though the Australian wishes they were closer to the pace setters.
Having finished fifth fastest in FP1 in Budapest, Ricciardo improves to second quickest once he put on Pirelli's red-banded supersoft tyre in the afternoon session.
The lead Red Bull RB12 ended up six tenths down on Nico Rosberg's Mercedes W07 but 0.3s ahead of Ferrari's best effort with Sebastian Vettel.
"We are looking pretty good," Ricciardo said. "Obviously we'd like to be a bit closer to the Mercedes, but at the moment we are sitting second best.
"A bit quicker than Ferrari today, so I think we are more or less where we expected to be. We knew it would be close with Ferrari, and if we can keep our nose in front that would be nice."
Asked whether the gap to Mercedes was representative, the 27-year-old added: "I would say it is pretty genuine. If we are close on Friday it sort of doesn't change too much on Saturday. So I would say that today is probably quite representative."
Ricciardo has been somewhat outshone by his team-mate Max Verstappen across recent races. The Australian, who won at the Hungaroring in 2014 and added a podium last year, hopes he can swing the momentum this weekend.
"It is the way the sport goes, sometimes you get a better run and sometimes you don't. For me this track has been good, it has been good in the past. I still have a lot of confidence in the way I am driving and everything.
"So I know if I keep just working and doing what I believe I can do, then the result will come. So I hope that is this weekend, that would be a nice time."
REPORT: Mercedes advantage cut after Hamilton crash in FP2
Romain Grosjean column: Safety car starts and summer breaks
Chris Medland's 2016 Hungarian Grand Prix preview
TECHNICAL: Under the skin of the Mercedes W07
Keep up to date with all the F1 news via Facebook and Twitter