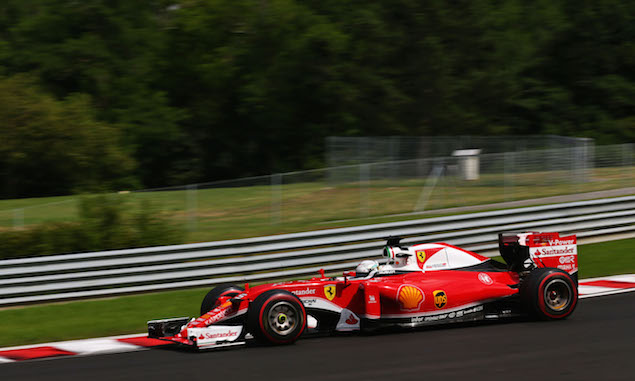 Sebastian Vettel says Ferrari needs to make progress overnight after "a bit of a mixed bag" during Friday practice for the Hungarian Grand Prix.
The opening practice session saw Mercedes over 1.6s clear of the rest of the field, with Ferrari occupying third and fourth in the standings. FP2 saw the gaps closing up, with Vettel jumped by Daniel Ricciardo but getting within a second of Nico Rosberg's pace.
"It was a bit of a mixed bag this afternoon," Vettel said. "The car feels okay, we need to improve a little bit all around and then we should be in a better tomorrow.
"It's quite obvious that Mercedes was very competitive in the morning and afternoon. I haven't seen the long runs, but as I said, we need to work on ourselves and then see where we are.
"I think we lost a bit of time in the beginning with the red flag it was not ideal. We had to come in a couple of times and re-programme the car, so we had to come in and go out, but we were able to fix it so that's good news. We lost a bit of the rhythm, but it was OK and the car felt fine and I think we can improve the set-up for tomorrow and find a better balance in the car."
And Vettel says the balance should see Ferrari improve in all areas throughout the lap as it looks to get closer to Mercedes.
"We need to better in sectors one, two and three – there is not one sector that stands out. As I said, I am not entirely happy with the balance, so naturally if the balance comes more together I think we can improve overnight and improve in sectors one, two and three. It's not a surprise that Mercedes is good."
REPORT: Mercedes advantage cut after Hamilton crash in FP2
Silbermann says ... Birds on the wire
Romain Grosjean column: Safety car starts and summer breaks
Chris Medland's 2016 Hungarian Grand Prix preview
TECHNICAL: Under the skin of the Mercedes W07
Keep up to date with all the F1 news via Facebook and Twitter