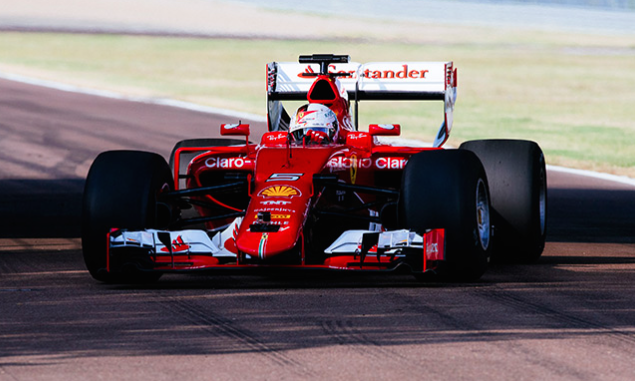 Pirelli's testing of its 2017-size tyres has got underway on Monday, with Sebastian Vettel kicking off two days of action at Ferrari's circuit of Fiorano.
Driving a 2015-spec SF15-T that has been adapted to next year's increased levels of downforce, the four-time world champion completed a pair of installation laps on the dry tyre in the morning before switching to the intermediate and full wet compound on an artificially watered track.
Next season will see wider tyres introduced, with the dimensions increasing from 245mm to 305mm at the front and from 325mm to 405mm at the rear. Ferrari is one three teams, along with Red Bull and Mercedes, that supply modified cars to help Pirelli prepare for the 2017 season.
Former Ferrari test driver Esteban Gutierrez, now at Haas, will take over from Vettel on Tuesday. These two days of wet testing will be immediately followed by two days of slick tyre testing with Red Bull at Mugello on August 3-4, which will see WEC and Formula E champion Sébastien Buemi drive an F1 car for the first time in over two years.
Testing will resume in September with Ferrari sampling slicks in Barcelona at the same time Mercedes is assessing slicks at Paul Ricard, both of which take place immediately following the Italian Grand Prix.
Testing in October and November will switch to Abu Dhabi, with a final three-day test for all three teams on November 29.
2016 German Grand Prix - Driver ratings
REPORT: Hamilton beats Red Bulls to extend championship lead
Silbermann says ... Backing the wrong horse
Exclusive Alex Wurz Q&A: GPDA chairman "surprised" by Halo delay
Keep up to date with all the F1 news via Facebook and Twitter