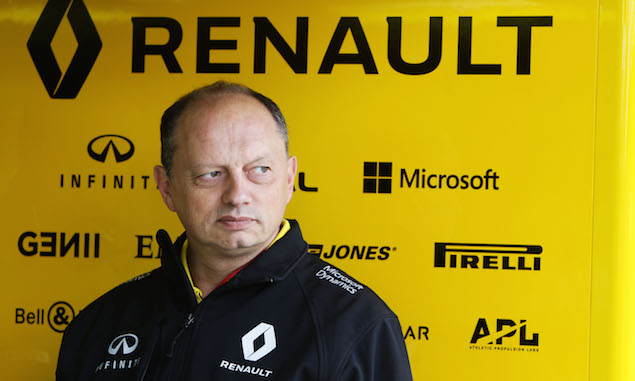 Renault's 2017 car is going to be based on last year's design rather than its current chassis, according to team principal Frederic Vasseur.
Having returned to F1 as a constructor this season following the takeover of Lotus, Renault knew it would have a difficult year and switched focus to its 2017 car early. Vasseur says the flaws in the current car - which saw a late power unit change - means Renault is using the 2015 car as its base for developing next year's design.
"Yes, we do consider 2017 a good opportunity for us," Vasseur told the official Formula 1 website. "Right now we are using a 2015-designed car that was built around a Mercedes engine, so when switching to a Renault engine we suffered from the very beginning.
"It is a fact that we are not building the 2017 car based on the 2016 one, but on the 2015 car - and that is a lot of catching-up! But as I just said, 2017 holds a good opportunity for us. Yes, right now it is a bit stressful to manage such a huge gap based on the structure that we have - but we are working hard on it."
And Vasseur says the focus on 2017 means Renault expects to settle for ninth place in the constructors' championship at best this season.
"Well, the pecking order seems quite clear and it will be difficult to change it, as we are not working on the car. So unless a gift comes from God I don't know how we should jump ahead."
Renault currently has six points in the standings, leaving it five clear of Manor and 22 points adrift of Haas.