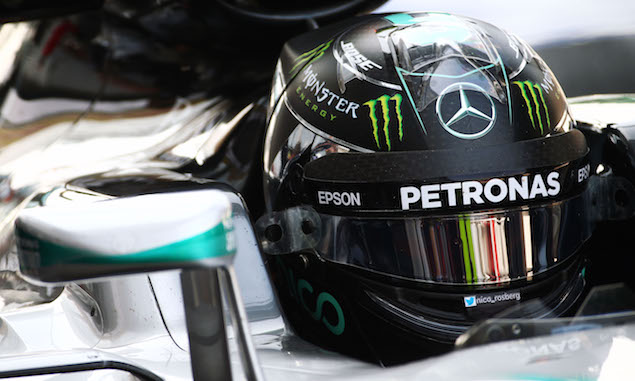 Nico Rosberg was 0.2s quicker than Lewis Hamilton as Mercedes dominated the opening practice session at the Italian Grand Prix.
On a circuit which is all about power unit performance and low drag, Mercedes was over a second clear of the rest of the field on comparable tyres. While Rosberg and Hamilton had gone comfortably quickest on the supersoft tyre, both drivers improved later in the session on the softs to lead Kimi Raikkonen by 1.088s.
Rosberg and Hamilton both had off-track moments - like many drivers - as they worked to find braking points for the chicanes, with Rosberg missing the Turn 2 apex while Hamilton went wide at the Della Roggia chicane.
Ferrari introduced a power unit upgrade at Monza which cost it its remaining three development tokens and duly ended the opening session in third and fourth positions. Raikkonen had the better of team-mate Sebastian Vettel to the tune of a quarter of a second, though neither driver ran the supersoft tyre.
One piece of encouragement for Mercedes' rivals is the improvement on soft tyres for the championship leaders suggests the team is still struggling slightly with its supersoft tyre performance. In Spa-Francorchamps, Mercedes was unable to find as much time when fitting the supersofts compared to the likes of Red Bull and Ferrari, leading to a close fight for pole position.
Behind the Ferraris, Sergio Perez was fifth quickest for Force India, while Romain Grosjean was a surprise sixth for Haas. Both drivers used the supersoft tyre to set their best times - over 1.6s slower than Rosberg - and finished the session ahead of Valtteri Bottas, Max Verstappen, Esteban Gutierrez and Daniel Ricciardo.
Jenson Button was 11th quickest ahead of Force India development driver Alfonso Celis Jr in 12th. Celis was more competitive than on his recent outings, finishing the session 0.7s slower than Perez.
Fernando Alonso was 13th quickest but his best time came on the prototype Pirelli soft tyre - which most drivers liken to the medium in terms of grip - after a reliability concern saw him limp back to the pits in the second half of the session.
The two Manor drivers struggled at times on a circuit where the team hopes to be competitive, with both skipping the first chicane. Esteban Ocon finished the session the quicker of the two in 18th place, with Pascal Wehrlein 20th ahead of the two Renault drivers.
Three drivers also tested the Halo cockpit protection device again during FP1, with Button, Verstappen and Perez all completing early runs with it fitted. Button followed Rosberg's lead from Belgium by setting his first timed lap with the Halo in order to test the device at full speed.
| Pos | Driver | Team | Time | Laps |
| --- | --- | --- | --- | --- |
| 01 | Nico Rosberg | Mercedes | 1:22.959 | 37 |
| 02 | Lewis Hamilton | Mercedes | 1:23.162 | 36 |
| 03 | Kimi Raikkonen | Ferrari | 1:24.047 | 16 |
| 04 | Sebastian Vettel | Ferrari | 1:24.307 | 17 |
| 05 | Sergio Perez | Force India | 1:24.650 | 32 |
| 06 | Romain Grosjean | Haas | 1:24.763 | 17 |
| 07 | Valtteri Bottas | Williams | 1:24.785 | 37 |
| 08 | Max Verstappen | Red Bull | 1:24.982 | 25 |
| 09 | Esteban Gutierrez | Haas | 1:25.113 | 19 |
| 10 | Daniel Ricciardo | Red Bull | 1:25.120 | 17 |
| 11 | Jenson Button | McLaren | 1:25.351 | 23 |
| 12 | Alfonso Celis | Force India | 1:25.367 | 30 |
| 13 | Fernando Alonso | McLaren | 1:25.507 | 14 |
| 14 | Felipe Massa | Williams | 1:25.840 | 18 |
| 15 | Marcus Ericsson | Sauber | 1:25.853 | 20 |
| 16 | Carlos Sainz | Toro Rosso | 1:25.973 | 20 |
| 17 | Daniil Kvyat | Toro Rosso | 1:26.074 | 20 |
| 18 | Esteban Ocon | Manor | 1:26.391 | 30 |
| 19 | Felipe Nasr | Sauber | 1:26.439 | 21 |
| 20 | Pascal Wehrlein | Manor | 1:26.762 | 28 |
| 21 | Jolyon Palmer | Renault | 1:26.811 | 35 |
| 22 | Kevin Magnussen | Renault | 1:26.956 | 32 |