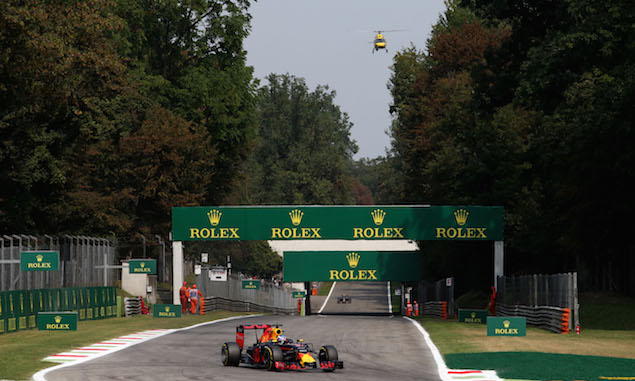 Daniel Ricciardo says Red Bull has "work to do" to close the gap to Ferrari ahead of qualifying for the Italian Grand Prix.
Ferrari was the closest challenger to Mercedes in both practice sessions on Friday, with Sebastian Vettel and Kimi Raikkonen third and fourth quickest respectively in FP2. While Max Verstappen and Ricciardo were next on the timing screens, the gap to Vettel was over half a second and the Australian admits that is more than expected.
AS IT HAPPENED: Italian Grand Prix - FP2
"Position wise we are more or less were we expected," Ricciardo said. "At least I expected Ferrari to be behind Mercedes here. But I didn't expect the gap to be as big as it was. So on soft tyres we were more competitive, but on the supersofts we didn't really find as much on one lap.
"If we can use this tyre a bit better in qualifying we can get close to Ferrari, but we have a bit of work to do to catch them. Anyway, I think fifth and sixth today is not too bad."
And Ricciardo says maximising one-lap pace is likely to be crucial as he fears Red Bull could be caught out by the likes of Williams.
"For tomorrow at least for us it is trying to get the most out of the tyre on one lap in qualifying.
"Especially here I think it is going to be really tight between fifth and tenth places – so to make sure that we use the tyre well could determine a big grid position change. So that is what we will work on tonight. The long run was pretty good, so work on the qualifying."
REPORT: Hamilton fastest as Ferrari closes gap in FP2
Silbermann says ... Mad about Max, Monza and Massa
Claire Williams on Felipe Massa and 2017 driver plans
Romain Grosjean column: Speed, sponsors and scheduling
Keep up to date with all the F1 news via Facebook and Twitter