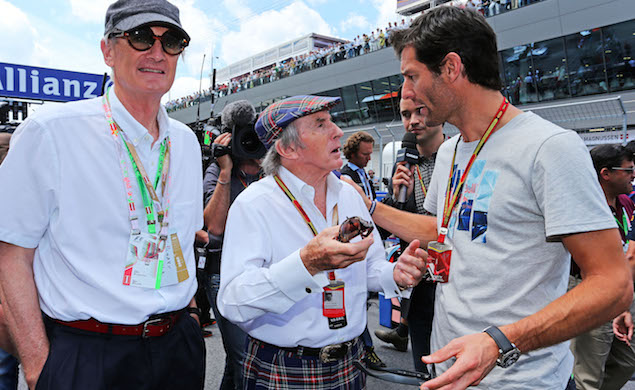 Mark Webber has revealed he had "interesting" discussions and "brillant counsel" from triple Formula One world champions Niki Lauda and Jackie Stewart when pondering his retirement from competitive racing.
The Australian announced last Thursday that he would step down from his active role at the end of the current FIA World Endurance Championship campaign and become a Porsche ambassador.
Talking to reporters at last weekend's 6 Hours of Fuji, Webber explained he had been weighing on his future for several months.
"I pretty much told the team in Spa [in early May], the decision was pretty much made, not 100% but told them there could be a different change at the end of the year," the 40-year-old is quoted as saying by dailysportscars.com. "There was nothing fixed until the last few months.
"I had an interesting chat to Niki Lauda in Bahrain during the F1 meeting and he was very open just about life and how it all goes along and to make sure it happens on your own terms. I've had brilliant counsel from him and Sir Jackie [Stewart]. It's a big decision and you have to make that for yourself."
Webber has had his few share of near-misses throughout his storied motorsport career, with scary shunts at the 1999 Le Mans 24 Hours, 2003 Brazilian Grand Prix, or 2010 European Grand Prix coming to mind.
The nine-time grand prix winner hinted that he reached the tipping point when crashing heavily at the 6 Hours of Interlagos in 2014.
"The Brazil crash was horrible for my wife, that was a really, really hard moment for her and my Mum is not enjoying my racing any more at all.
"I was very lucky – It was a gi-normous impact, it was also the longest time for me ever to recover from a crash so that was an eduction to say the least.
"It's a very selfish profession that we have so I have factored in – 5% here, 5% there and sometimes I have been in the car in the last ..while and have said [to myself] 'Why am I in the car?' When you ask yourself that question then it's time to stop."
FEATURE: Where and Why has Williams been caught out
F1i Classic - Masten Gregory - The 'Kansas City flash'
Silbermann investigates the potential EU threat to F1's Liberty Media deal
2017 F1 driver line-ups so far
Keep up to date with all the F1 news via Facebook and Twitter