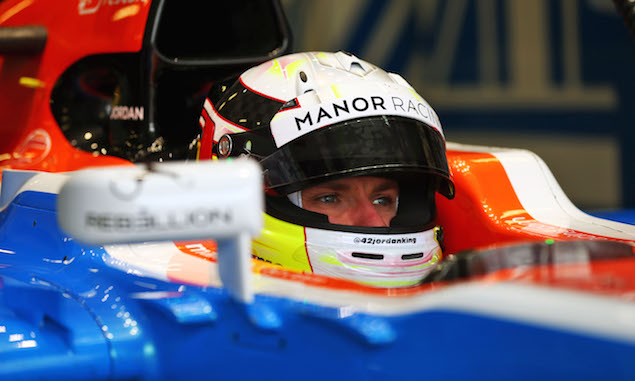 Manor development driver Jordan King will make his Formula One race weekend debut at the upcoming United States Grand Prix, with the Briton set to take part in the opening free practice session at the Circuit of the Americas.
King boasts previous experience aboard a grand prix car, having already tested several times for Manor.
The 22-year-old has been dovetailing his F1 commitment with a second GP2 Series season at Racing Engineering and currently lies fifth with two race wins and another three podium finishes to his name.
"First of all, I'd like to thank the team for making this possible," King said. "It's another big step in the right direction for me, after two really positive tests in the MRT05 which paved the way for this opportunity.
"It's a dream come true, but at the same time I have a job to do in the car on Friday and I want to make sure I give the team plenty of quality feedback and data to help with their USGP challenge."
Talking about his Friday morning programme, he added: "There's quite a lot to cram into 90 minutes. I'll be exploring the balance of the car and correlating that with the team's simulation work.
"There'll be some new components to evaluate, along with the tyre specifications for this event. I'll also be learning the circuit and getting up to speed with the car, which has been developed quite a bit since I last drove it at Silverstone. I can't wait!"
F1i Classic - Masten Gregory - The 'Kansas City flash'
Silbermann investigates the potential EU threat to F1's Liberty Media deal
2017 F1 driver line-ups so far
Keep up to date with all the F1 news via Facebook and Twitter