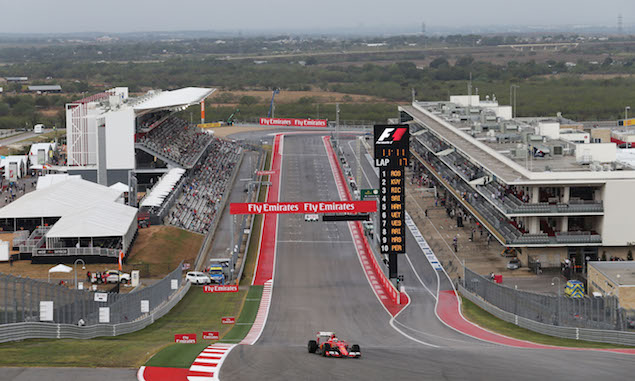 Ferrari star Kimi Raikkonen says he likes the layout of the Circuit of the Americas, home of the United States Grand Prix, as it makes for 'exciting' races in Austin.
COTA has been hosting F1 since 2012 and quickly become a popular track among teams and drivers with its uphill first corner, flowing corners, and elevation changes.
Despite never finishing higher than sixth in four attempts, Raikkonen is a fan of the Texan venue.
"It's a nice circuit" the 2007 world champion said. "They put a good design in it, plus it has uphill sections and it's not just flat. I think it makes it more interesting.
"Obviously it's possible to overtake during the race but it's quite a short uphill for this. It helps to slow down the car and with the braking, but the corner is not the easiest one. However, it's a good circuit for making an exciting race."
Raikkonen adds that local fans are owed a good show after the 2015 washout.
"Austin is a nice city, a nice place for the US Grand Prix with a lot of people.
"Last year we had a very bad weather during most of the weekend. It was not very nice for any of us, drivers and spectators."
TECHNICAL - Turbulent Jet Ignition: In the antechamber of F1 power
FEATURE: Where and why has Williams been caught out
F1i Classic - Masten Gregory - The 'Kansas City flash'
Silbermann investigates the potential EU threat to F1's Liberty Media deal
2017 F1 driver line-ups so far
Keep up to date with all the F1 news via Facebook and Twitter