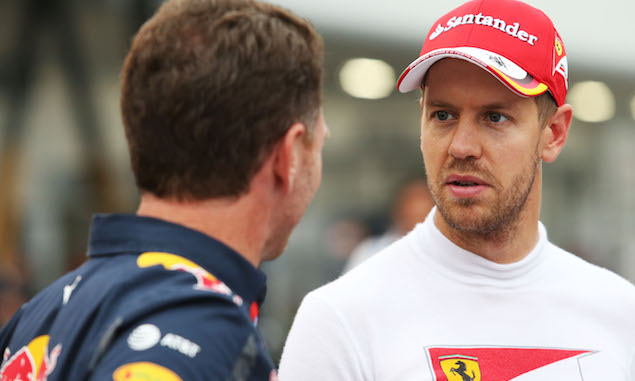 Red Bull's Christian Horner says he would be "surprised" if former driver Sebastian Vettel's expletive-ridden rant at FIA race director Charlie Whiting during the Mexican Grand Prix "went unreprimanded".
The Ferrari star lost his temper in the closing laps of the race, swearing over the radio to voice his anger at Max Verstappen's refusal to allow him through and up to P3 after cutting a corner.
Vettel's meltdown reached a new peak when the four-time world champion used foul language against Whiting after being told that the stewards had yet to take action on the Verstappen incident.
Vettel said after the race that he immediately went to see the lead FIA representative to apologise but his former team boss is not sure this will be enough to avoid being punished.
"Of course in the heat of the moment there's always going to be emotion from the drivers," Horner said. "In other sports, I'm sure if football players had microphones on their language would be an awful lot bluer than what's going out on the track.
"But in any sport what you can't do is give abuse to the referee, essentially. So I would be surprised if that went unreprimanded."
After enjoying a strong maiden campaign at Ferrari in 2015, Vettel has cut an increasingly frustrated figure, often complaining on his team radio, as the Scuderia has failed to build on last year's promises.
Horner, who oversaw his four consecutive titles at Red Bull from 2010-13, admits he has been surprised by the German's angry outbursts.
"It's not an attribute he had when he drove for us. Obviously his frustration he is vocalising, and everybody can hear that."
2016 Mexican Grand Prix - Driver ratings
REPORT: Hamilton keeps title hopes alive with Mexico win
Breakfast with Stefan Johansson 15 minutes with ... Nico Rosberg
Silbermann says ... Masked in Mexico