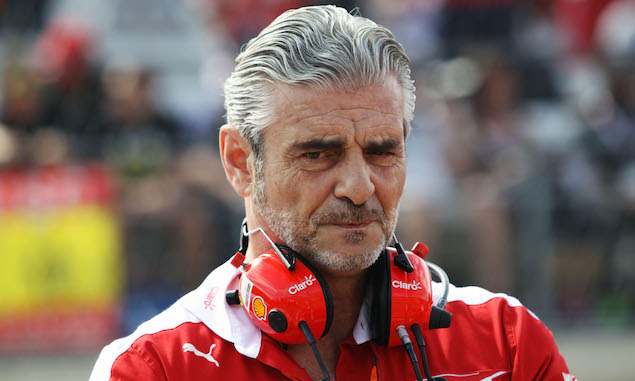 Ferrari team principal Maurizio Arrivabene insists he was not angry at Red Bull for its tactics late in the Mexican Grand Prix.
Max Verstappen ran wide at Turn 1 when defending third place from Sebastian Vettel, with Red Bull initially telling its driver to give up the place before instructing him to stay in front of the Ferrari. With Verstappen continuing to defend, Vettel came under pressure from Daniel Ricciardo and the two made contact on the penultimate lap, with Vettel later being penalised for moving under braking.
Arrivabene was clearly animated on the pit wall in the closing laps, but speaking before Vettel was demoted from third to fifth place as a result of the Ricciardo incident, he insists his anger was not aimed at Red Bull.
"Of course I was angry, but nothing to do with the other team," Arrivabene said. "I was talking to my people, to move on and to talk with Charlie [Whiting, race director]. I was really ... concentrated on that, and you know my passion and character is like this and I become … [animated]. OK.
"I was really angry and the passion, but I was talking to my team."
Arrivabene later took to team radio in an attempt to calm down a clearly frustrated Vettel, with the German having told Whiting to "f**k off" while deliberating whether to penalised Verstappen.
Transcript following the chequered flag:
Vettel: "He has to give me the position. End of the story."
Arrivabene: "Sebastian, Sebastian, calm down, calm down. They are under investigation. I know that it is not fair but calm down. Put your head down and we talk afterwards."
Vettel: "OK, copy Maurizio."
The FIA is currently looking into Vettel's comments regarding Whiting, despite Vettel having gone in person to apologise to the race director.
Mexican Grand Prix - Quotes of the week
DRIVER RATINGS: Mexican Grand Prix
Breakfast with Stefan Johansson
15 minutes with ... Nico Rosberg
Keep up to date with all the F1 news via Facebook and Twitter