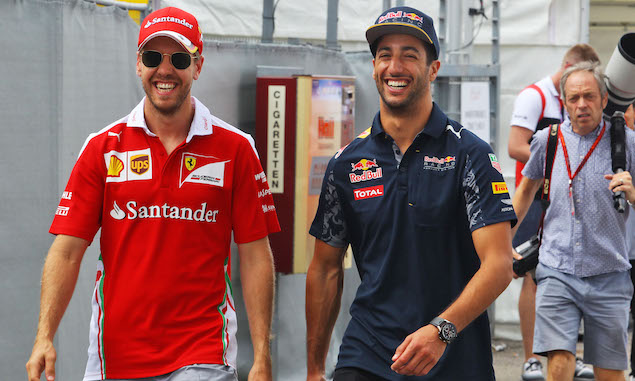 Daniel Ricciardo says Sebastian Vettel's outbursts have been "a bit too much", believing his former Red Bull team-mate has "been more frustrated this year".
Vettel was angry at Max Verstappen's defence of third place during the Mexican Grand Prix on Sunday, with the Dutch driver cutting Turn 2 and staying ahead of the Ferrari. With Verstappen holding station, Vettel delivered a rant full of expletives at the Red Bull driver before telling FIA race director Charlie Whiting to "f**k off" after being informed the incident was being investigated.
Ricciardo later gained third place from Vettel after the German was penalised for moving under braking, and the Australian says his former Red Bull team-mate needs to learn to deal with his frustration in the car better.
"I definitely sense he's been more frustrated this year," Ricciardo said. "He's shown it in the past that he can be quite emotional, but this year it seems to be a bit more.
"In the moment it's easy to just press that radio button and say a whole load of things, but we all know that it can get broadcast. Trust me, I would say twice as much, but I tend to say a few things to myself and then press the radio button.
"I think he's obviously a bit frustrated with how the season has gone and he probably thought they had a chance to fight Mercedes and it hasn't worked like that. Some things we've seen him get frustrated by in the past, but it's probably been a bit more uncharacteristic this year and probably been a bit too much."
The FIA is currently investigating whether to take any further action against Vettel for his comments about Whiting, and Ricciardo says there are ways Vettel can prevent such outbursts in future.
"There is a lot which from one side you need to say 'heat of the moment', you have to be a bit lenient with it. But if your instinct is to hit the radio button and start splurting a whole lot of stuff, you have to be more sensible than that. You don't need to broadcast it, you can swear in your helmet and then speak your mind more relaxed a few moments later."
Mexican Grand Prix - Quotes of the week
DRIVER RATINGS: Mexican Grand Prix
Breakfast with Stefan Johansson
15 minutes with ... Nico Rosberg
Keep up to date with all the F1 news via Facebook and Twitter