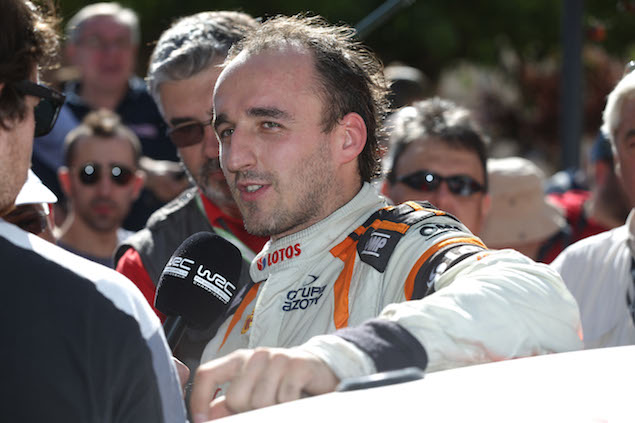 Robert Kubica is interested in a move to the World Endurance Championship but is concerned his physical limitations could prove problematic.
The former BMW Sauber and Renault driver last raced in F1 in 2010 before being severely injured in a rally crash in February 2011. The Pole has done little in the way of circuit racing since, instead focusing on the World Rally Championship, but this year made appearances in the Renault Sport Trophy and 24 Hour Series.
Having tested an LMP1 car for the first time courtesy of Colin Kolles' privateer team during the rookie WEC test in Bahrain, Kubica says he's interested by the series but still analysing whether he can viably compete.
"Of course LMP1 doesn't need to be introduced," Kubica is quoted as saying by Sportscar365. All motorsport fans know about LMP1, it's kind of Formula 1 with covered wheels. The races are high-level races. It's not that you go chill out and you do 12 hours, 24 hours cruising – you have to push.
"Because it's something new, I'm not 100 percent sure I will like it, but on the other hand every new challenge gives you some extra motivation to try them to see if you can do it well.
"But for sure if I would decide to do it, it's because I want to do it, not because I don't have anything else to do. I came here just to see, to get rid of some doubts I have."
With limited mobility in his right arm, Kubica admits his main concern is whether or not he can adapt to the demands of the WEC.
"It was not easy and I would prefer to have a proper seat-fitting in a factory before driving. Fortunately it worked out pretty well and I was quite comfortable in the car, not 100 percent, but I could drive still. We used it as kind of a rollout, checking if I can fit in the car and it was okay.
"For sure because of my limitations, endurance races are quite difficult because there are driver changes which you have to do as fast as possible. You cannot build up your cockpit around yourself."
Kubica spent time in the Renault F1 simulator earlier this year, leading to his appearance in the Renault Sport Trophy at Spa-Francorchamps in September.
INTERVIEW: Rob Smedley on Felipe Massa
FEATURE: When F1 team-mates fight for the title
SILBERMANN: A long-winded tribute to an often long-winded man
From the cockpit: Felipe Nasr on two precious points in Brazil
Keep up to date with all the F1 news via Facebook and Twitter