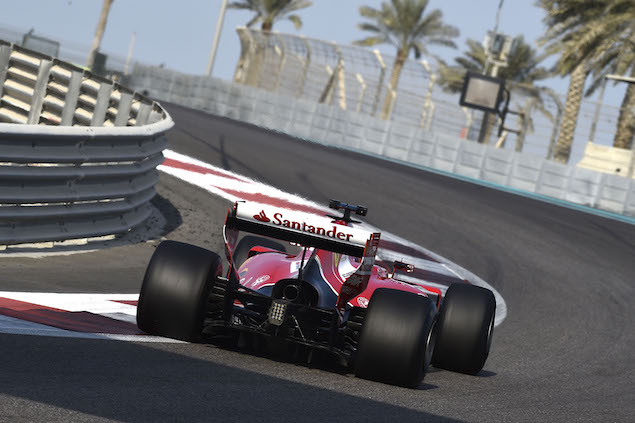 Pirelli enjoyed a productive final day of testing 2017 tyres in Abu Dhabi, with 96 prototypes used.
Mercedes, Red Bull and Ferrari have all supplied mule cars for the tyre test schedule during this season, allowing Pirelli to develop the compounds for the wider tyres in 2017.
With all three teams running simultaneously on Tuesday, Pirelli says it was able to analyse "approximately 96 different prototypes ... with all the teams running a variety of specifications in order to maximise data collection".
Pirelli Motorsport boss Paul Hembery says the tyre manufacturer faces a lot of work over the winter but thanked the teams for the efforts in providing the mule cars.
"For the final test of the year, we had five F1 race drivers sample our 2017 prototypes as we completed the development programme with three cars at the same time," Hembery said. "Now the hard work begins as we collate and analyse the results of our 24 days and approximately 12,000 kilometres of testing in order to define the tyres with which we will go racing next year.
"These will then be run on the actual 2017 cars for the first time during the official group tests next February. Our latest test in Abu Dhabi went according to plan and we were able to collect the data we needed thanks to the three mule cars from Mercedes, Red Bull and Ferrari; without whom it would have been impossible to carry out this intense development programme."
Lewis Hamilton drove for Mercedes during the opening part of the test but handed over to Pascal Wehrlein after feeling unwell. Kimi Raikkonen was at the wheel for Ferrari, while Daniel Ricciardo and Max Verstappen split running for Red Bull.
Abu Dhabi Grand Prix - Quotes of the week
DRIVER RATINGS: Abu Dhabi Grand Prix
Jenson Button's F1 career: 17 seasons, 15 wins
Keep up to date with all the F1 news via Facebook and Twitter