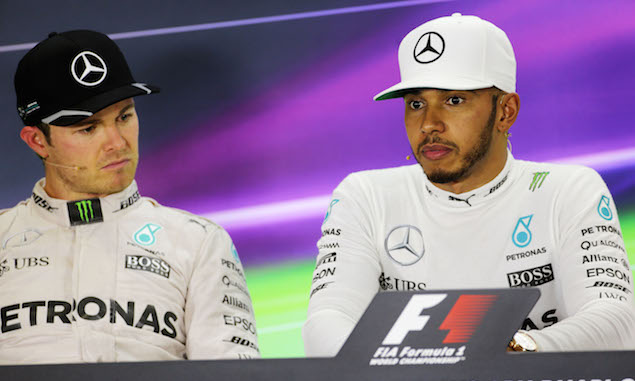 Lewis Hamilton feels there have been "some uncomfortable scenarios" in how Mercedes handled the intra-team championship fight between him and eventual champion Nico Rosberg during the 2016 Formula One season.
With the German manufacturer extending its dominance in the V6 turbocharged era, Hamilton and Rosberg continued their mano a mano for the Drivers' crown, which led to a few flashpoints on and off track.
The two team-mates took each other out on the opening lap in Spain before colliding again in Austria, in the final lap this time. Hamilton also complained about Mercedes swapping half of his crew of mechanics with Rosberg's, raising the topic once more on the eve of the season finale in Abu Dhabi and teasing an "interesting" explanation years from now.
The Briton, whose costly reliability issues also led to conspiracy theories, then openly ignored team orders at Yas Marina Circuit, deliberately backing up his title rival so other cars could overtake him.
"There have been instances that feel a little bit odd. Definitely been some uncomfortable scenarios," Hamilton commented at the FIA Gala in Vienna.
"But, you know, I expect that – I should expect that. I think that perhaps that comes with the territory when you compete as you do, when you've been out front for some time.
"It is a tricky scenario, I guess, for a team, when they've got two drivers fighting for a championship. But what doesn't kill you makes only you stronger, from experiences you learn about different characters and about yourself."
It was rumoured over the Abu Dhabi Grand Prix weekend that Hamilton went as far as threatening to leave Mercedes in the aftermath of the Barcelona crash.
When asked about the allegations by Sky Sports F1' Martin Brundle, the triple world champion did not deny it and simply replied: "That's all private stuff. It's all in the past so it does not really matter."
FEATURE: Nico Rosberg in numbers
Mercedes: The candidates to replace Rosberg
From the cockpit: Felipe Nasr on his second set in F1
F1i Classic - Bowing out on a high
Silbermann says... Respect to Rosberg
Keep up to date with all the F1 news via Facebook and Twitter