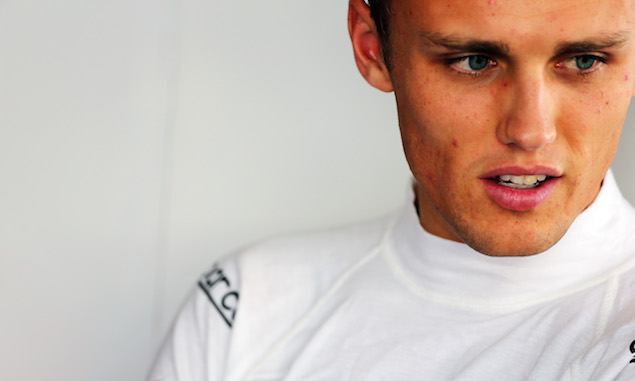 Former Marussia F1 driver Max Chilton has re-signed with Chip Ganassi Racing for the 2017 IndyCar season.
The Briton made a full-time switch to the US-based series in 2016 after a year racing in Indy Lights alongside Nissan's ill-fated LMP1 program.
Chilton drove for Marussia in 2013 and 2014, and was the team's only entrant in its final race at the 2014 Russian Grand Prix following Jules Bianchi's accident at Suzuka.
The British team entered administration after the race in Sochi and Chilton did not come back when it was revived as Manor ahead of the 2015 season.
The 25-year-old will return to the wheel of the No8 Gallagher machine and be part of Ganassi's four-car line up alongside four-time IndyCar champion Scott Dixon, 2013 Indy 500 winner Tony Kanaan and race winner Charlie Kimball.
"I think we were able to build a solid foundation in my rookie year in the IndyCar series with the support of [primary sponsor] Gallagher and the team," said Chilton, who finished 19th in the 2016 standings with a best result of seventh in Phoenix.
"The learning curve is very steep here, and the field is separated by just a few seconds from top to bottom with really talented teams and drivers, which makes the competition incredibly close.
"Having a year of experience now to adapt to the car and learn all of the courses on the schedule is huge for us.
"Chip and Gallagher give us everything we need to be competitive and go out to contend for wins, so I'm optimistic for the direction of the No. 8 Gallagher team heading into next season."
FEATURE: Nico Rosberg in numbers
Mercedes: The candidates to replace Rosberg
From the cockpit: Felipe Nasr on his second set in F1
F1i Classic - Bowing out on a high
Silbermann says... Respect to Rosberg
Keep up to date with all the F1 news via Facebook and Twitter