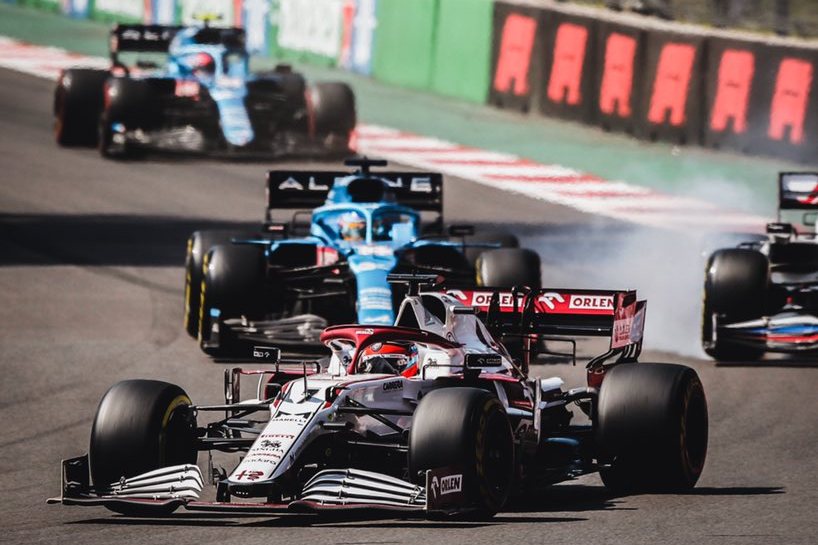 Kimi Raikkonen (P8, 4 pts): 8/10
It would be unfair to suggest that Kimi Raikkonen has already mentally packed his bags in preparation for his pending retirement from F1 at the end of the season, but he's certainly been rather anonymous in recent outings and was so again here in practice and qualifying in Mexico City. However the Iceman can always be prompted to raise his game by the merest hint of an opportunity being presented to him, and so when engine penalties for other cars put him in tenth place on the grid for the start of Sunday's race it was time for the sport's most experienced driver to come to life and remind us why he's such a great competitor. Surprisingly he didn't make any net gain in position at the start but once the safety car came in he made short work of George Russell. Kimi was up to seventh as the pit stops cycled through until it was time to make his own service call on lap 33 which put him back where he started, once again running right behind Sebastian Vettel and just ahead of Fernando Alonso all the way to the chequered flag by which time they had benefitted from some late pit stops ahead. "It was nice to get points and bring a reward to the team. We always try to do our best, every time we get to a race, and today things worked out well for us."

Sebastian Vettel (P7, 6 pts): 8/10
It was a good day for some of the more experienced stalwarts of the sport, with Sebastian Vettel finishing the race firmly in the points at the head of a mini-pack of former champions that also featured Kimi Raikkonen and Fernando Alonso. It was the culmination of a very solid weekend for the Aston Martin driver, who had been in the top ten in both of Friday's practice session although on Saturday he missed out on making it through to the final round of qualifying, in part because of the games being played by other teams wanting both of their drivers into Q3 to provide a tow to their team mates. Engine penalties for others promoted Vettel to ninth on the grid and he avoided the issues at the start to run in eighth for the first 15 laps, at which point the pit stops started in earnest. Vettel himself didn't stop until lap 33, but once Lando Norris became the final driver to make his scheduled stop on lap 44 Vettel was back up to seventh which is where he remained for the rest of the afternoon, watching on as the two Ferraris of Carlos Sainz and Charles Leclerc swapped positions in the hope of chasing down Pierre Gasly for fourth. "I am quite happy with our performance today," he insisted. "We had shown competitive long-run pace on Friday and I knew that if we could hold position on lap one, we would be able to stay there and score points."