Yuki Tsunoda (P4, 12 pts): 9/10
Yuki Tsunoda started his rookie campaign with an impressive splash in pre-season testing and then a terrific performance in the season opener in Bahrain. Since then however it's been a bit of a torrid time for Yuki and we've been wondering when and if he would be able to rediscover that early form. Happily he did so in time for the season finale in Abu Dhabi, and he was the best of the two AlphaTauri drivers throughout the weekend - no mean feat when your team mate is Pierre Gasly. He was four tenths quicker than the Frenchman in FP1 and remained ahead in the remaining practice sessions, duly progressing to the final round of qualifying on Saturday evening despite running on the medium tyres, while Gasly hit traffic problems at the end of Q2 and fell short. Tsunoda gained a place at the start of the race and after a 23-lap initial run on those mediums he was still in seventh after everyone else had made their initial round of stops. A slow puncture for Lando Norris then handed him an extra spot before he and Gasly both made opportunistic stops for soft tyres under the final safety car to give them the speed to overhaul Valtteri Bottas in the final lap showdown. By the time they got to the line, Tsunoda was just half a second away from catching Carlos Sainz to steal a podium. A very impressive finish to the year for the Japanese driver, setting him up nicely for 2022.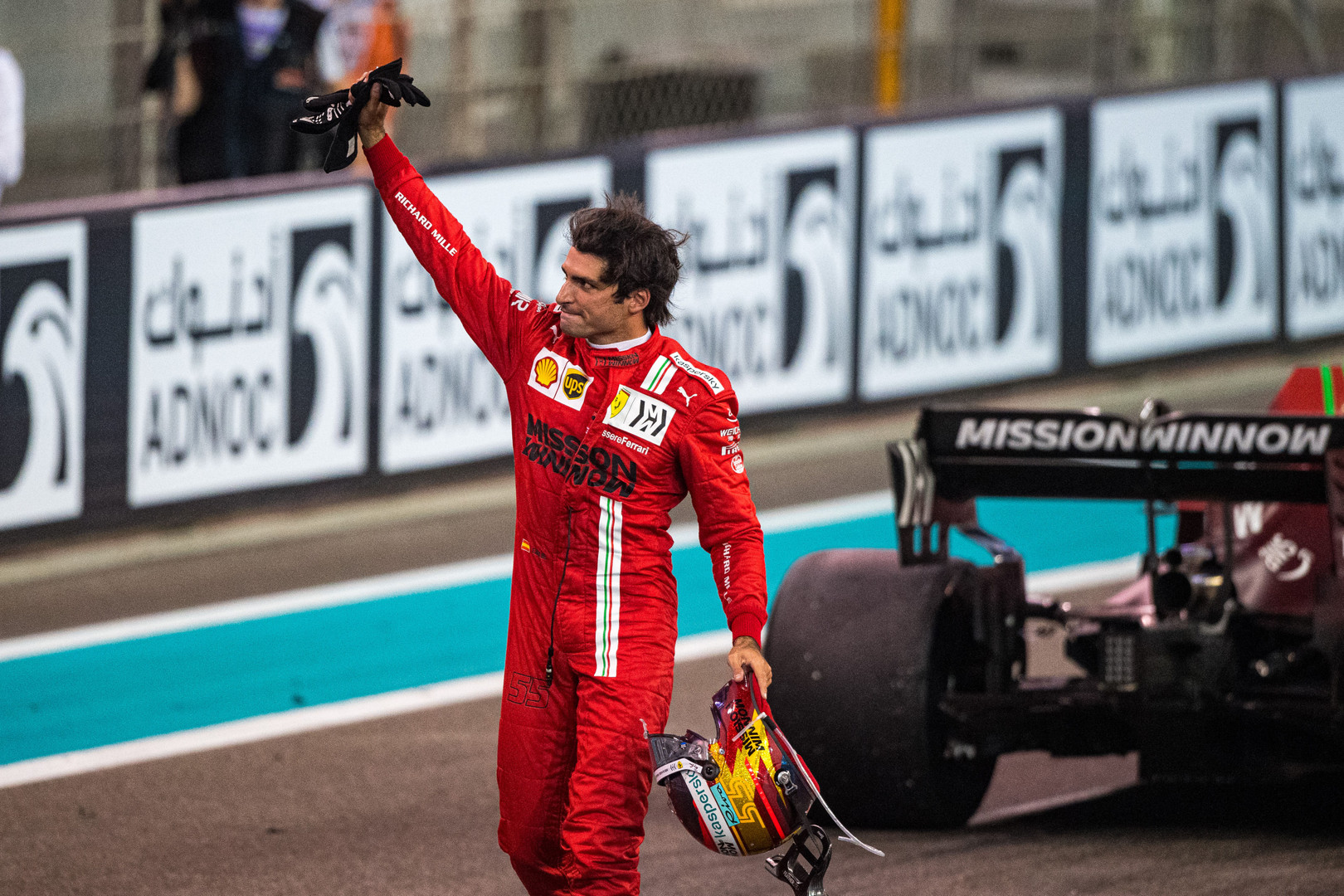 Carlos Sainz (P3, 15 pts): 8.5/10
Coming into 2021 we were worried that Carlos Sainz would be overshadowed by Charles Leclerc, who appeared to be firmly positioned as Ferrari's golden boy and favourite son. As the season had progressed, Sainz has more than held his own and the two drivers have been remarkably well matched. When it came to the season finale in Abu Dhabi, there was barely a cigarette paper between them throughout practice: Leclerc was just ahead on Friday but it was Sainz who edged out in front in FP3 and then in qualifying where he succeeded in taking fifth place on the grid for the start of the race, two spots ahead of the Monegasque. He was gifted an early place at the start when his former McLaren team mate Lando Norris went wide at the first corner after which he slotted in behind Sergio Perez for the opening stint. Having started on the soft tyres he was obliged to pit on lap 19, which put him behind Pierre Gasly who was undertaking a much longer first stint on the hard compound. When the AlphaTauri did finally make his stop, Sainz was back up in fourth; Perez' late retirement then put him onto the podium, although the safety car and final lap restart meant he was under severe pressure from Yuki Tsunoda in the final run to the chequered flag. He narrowly came out on top to end his season on a high having moved up two places in the drivers championship to finish in fifth ahead of both Norris and Leclerc, to his obvious delight.