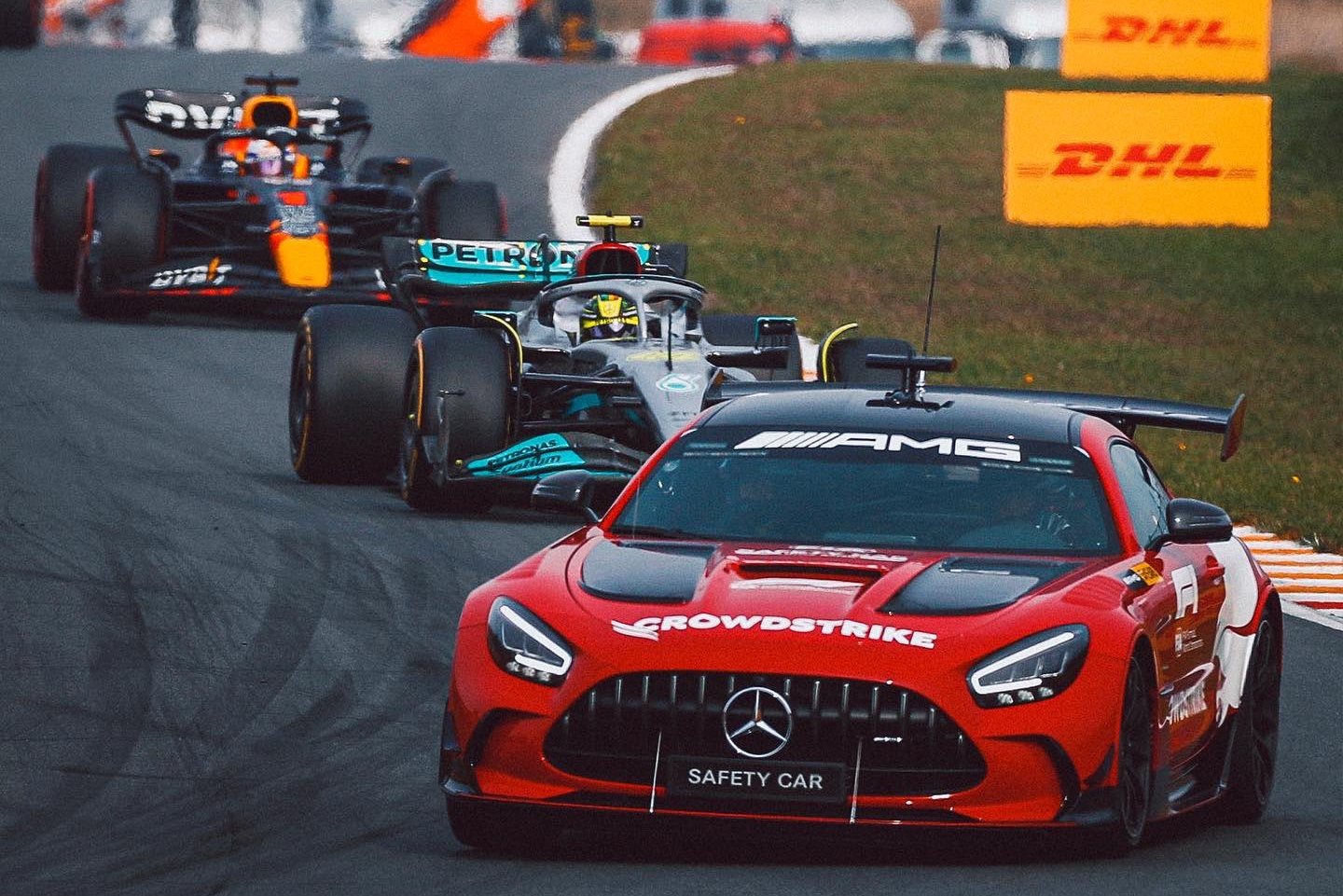 Lewis Hamilton (P4, 12 pts): 9/10
We've seen an agitated Lewis Hamilton before, and an annoyed Hamilton, and a disconsolate and emotional one. But we've never seen him explode with fury in the cockpit like he did on Sunday at Zandvoort. It shows the pressure that the seven-time world champion is putting himself under to salvage something from a terrible season for Mercedes. He and team mate George Russell were quickest in first practice and Hamilton was third in FP2, suggesting the Mercedes was on form this weekend and that this was their best opportunity to secure a win so far this season. Unfortunately any chance to secure pole (always an outside bet) was thwarted by Sergio Perez' spin at the end of Q3 causing yellow flags that prevented Hamilton putting in a final flier. But the team responded by picking a strong strategy for Sunday, starting both drivers on mediums while their rivals were on softs. The longer first stint allowed Hamilton to take the lead on lap 19 and a move to the hard compound suggested they were attempting a one-stop strategy. However a late Virtual Safety Car for Yuki Tsunoda and then a full safety car for Valtteri Bottas undid those plans and left everyone reacting on the fly. Hamilton changed to mediums initially and then having taken the lead decided to stay out; but it left him a sitting duck for Max Verstappen, George Russell and Charles Leclerc to pass him. He was incandescent with rage aimed at the Mercedes pit wall; but in truth it's hard to know what either the team and/or driver could have done better in the situation. As students of the Kobayashi Maru test will tell you, sometimes there's simply no winning strategy on the day; but it was very close this time.
Charles Leclerc (P3, 15 pts): 8.5/10
Charles Leclerc really needed a win this weekend to keep his title championship hopes alive. Also, it would have been nice to put 'one in the eye' of his arch rival Max verstappen at the Dutch driver's home Grand Prix. But in the end, neither happened and all the race did was to prove that Verstappen is simply out of reach of mere mortals at the moment. After a slow start in FP1, Leclerc had finished Friday practice on top by four thousandths of a second from his Ferrari team mate Carlos Sainz; he was quickest again in final practice, this time by 0.066s from George Russell. But when it came to the all-important qualifying, he narrowly missed out to Verstappen for pole position. Worse, the team only had used sets of soft tyres to start him on in the race, while Red Bull had held back a fresh set of the compound to give Verstappen a vital edge when the lights went out. Sure enough, Verstappen held the lead and pulled away over the opening laps and only Mercedes' medium tyres/one-stopper strategy gave him any headaches. Leclerc's mid-race move to the hard tyres proved unfruitful dropping to fourth behind the two Mercedes and it was only when Lewis Hamilton decided not to take a set of softs under the safety car that the momentum swung back to Leclerc. He was able to pass Hamilton on lap 66 to secure a spot on the podium alongside Verstappen and Russell, but as for the title it means he's dropped 109 points behind Verstappen with just seven races remaining. Surely that ship has sailed?